Rishi Sunak has angered Tory Brexiteers by ditching the Government's promise to complete a post-Brexit "bonfire" of remaining EU-era laws by the end of the year.
Business Secretary Kemi Badenoch announced that around 600 laws would be revoked under their legislation rather than the 4,000 pledged, insisting it is "about more than a race to a deadline".
Leading Conservative Eurosceptic Jacob Rees-Mogg, who introduced the plans when he was in Liz Truss's Cabinet, accused the Prime Minister on Wednesday of having "abandoned his promise".
Ms Badenoch acknowledged there are "risks of legal uncertainty" by automatically scrapping the copied-over laws by the end of the year in a sunset clause in the Retained EU Law (REUL) Bill.
She said ministers will amend the Bill making its way through Parliament to replace the current sunset clause with a list of 600 EU laws to be revoked by the end of the year.
"We will still fully take back control of our laws and end the supremacy and special status of retained EU law by the end of 2023," she said in a written statement to MPs.
She said a further 500 pieces of retained EU legislation would be revoked by other means, but it was unclear if that will happen by the end of the year.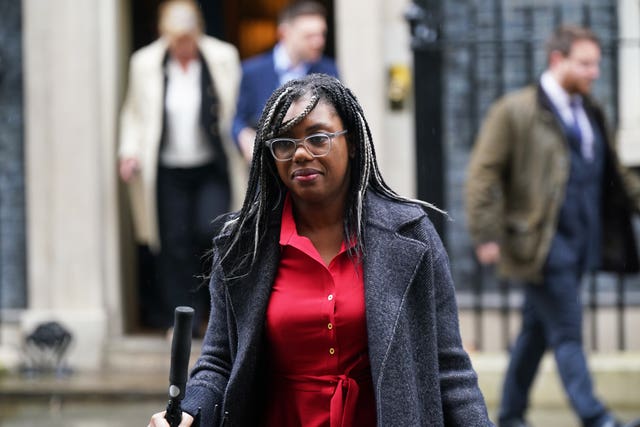 Ms Badenoch said around 1,000 had been scrapped or altered already, though Government data shows 906 EU laws have been dealt with so far, and only 245 of those have been repealed.
"We will not abolish any law for the sake of it," she wrote in a defence of the move for the Daily Telegraph. "Getting rid of EU law in the UK should be about more than a race to a deadline."
But Mr Rees-Mogg highlighted Mr Sunak's pledge to review or repeal remaining EU laws within his first 100 days of office when he ran against Ms Truss to replace Boris Johnson as Tory leader.
In a statement to the PA news agency, the former business secretary said: "This is an admission of administrative failure, an inability of Whitehall to do the necessary work and an incapability of ministers to push this through their own departments.
"There is a missed opportunity to deregulate and to make the UK economy more efficient and competitive. This is especially important in an inflationary era as it would have reduced prices. An important economic opportunity has, therefore, been given up.
"Regrettably, 'the blob' has triumphed and the Prime Minister has abandoned his promise."
Brexit hardliners on the European Research Group of Tory MPs were also angered by the move.
A senior member said: "We are very disappointed that the REUL Bill, which passed through the Commons with the overwhelming support of the parliamentary party, is now being watered down, by our own Government, in the Lords.
"There is still time to avert this decision and we very much hope the Government will reconsider."
But Jane Gratton, of the British Chambers of Commerce, said firms had been worried about the "headlong rush towards the sudden removal of vast swathes of legislation overnight".
"It is welcome that Government has listened, and the Bill will no longer apply a blanket sunset clause in this way, with the real risk of unintended but negative consequences," she said.
The Wildlife Trusts' chief executive Craig Bennett warned that ministers will still be able to "revoke important laws at whim", raising concerns about environmental protections being scrapped.
"We won't be congratulating the Government for its decision to stop doing something it should never have even thought about in the first place," he said.
"Ministers should never be given carte blanche to pick and choose which laws should be kept or binned without public consultation or scrutiny – that is fundamentally undemocratic.
"The uncertainty created by the Government over retained EU law has caused huge problems for business, as well as organisations working to protect nature."
"After wasting months of parliamentary time, the Tories have conceded that this universally unpopular Bill will damage the economy, at a time when businesses and families are already struggling with the Tory cost-of-living crisis."
The Liberal Democrats said the "fight is not over" on the legislation.
Liberal Democrat peer Lord Fox said: "In their desperate attempts to avoid this legislation turning into chaos, they're still leaving a lot of uncertainty."