The Conservatives have pledged not to enter any electoral pacts with other political parties after being told by Labour to rule out a "grubby, desperate deal" for power.
Rishi Sunak's press secretary had refused to rule out entering a coalition government with rivals despite the Prime Minister accusing Sir Keir Starmer of "plotting" to team up with others.
She declined to "speculate" on the outcome of the next general election after being asked if Mr Sunak could form a pact with the DUP or other parties.
But hours later, the Conservatives released a statement saying: "We will not be doing a deal with any other party."
Labour leader Sir Keir has ruled out doing a deal with the SNP, but left the door open to working with the Liberal Democrats if he does not secure a Commons majority after the next election.
Mr Sunak attacked Sir Keir on the issue during Prime Minister's Questions on Wednesday, accusing him of being "busy plotting coalitions" while the Conservatives are running the country.
But Labour called on Mr Sunak to rule out a "grubby, desperate deal" to "cling to power" after the press secretary declined to rule out the Tories entering any pacts.
"I don't think anyone at this stage is going to speculate on the results of the next election," she said.
Shadow Scotland secretary Ian Murray responded: "Rishi Sunak's refusal to rule out a grubby deal with the SNP is a sign of his desperation to cling to power."
The row came after the Conservatives were punished by voters in last week's local elections, with the party losing nearly 1,000 councillors.
Labour made large gains but some projections cast doubt on whether Sir Keir is in a position to say he is on course for a majority after the next general election, expected next year.
On Tuesday, the Labour leader repeatedly declined to rule out doing a deal with the Lib Dems in the future after they performed strongly in the local polls.
He insisted he is "going for an outright majority" but declined to answer "hypotheticals" when asked about doing a deal with Sir Ed Davey's party.
However, Sir Keir said he is "absolutely clear there are no terms in which we will do a deal with the SNP" because there is a "fundamental difference" between Labour and the Scottish nationalists.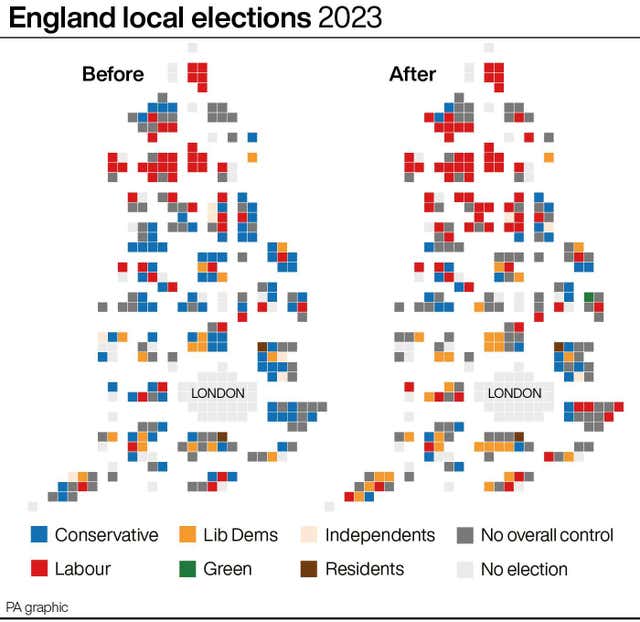 With results in from all 230 councils up for grabs, Labour gained 643 seats, the Lib Dems 415 and the Greens 200.
Downing Street said Mr Sunak has confidence in Tory Party chairman Greg Hands despite the losses.
"Yes, of course," the press secretary said.
Mr Hands attended a meeting of the 1922 backbench committee on Wednesday evening in the wake of the results, but attendance was limited to only between 20-40 MPs.
He told reporters that the discussion had been "business-like" and about the "way forward" for the party.
Tory MP Chris Skidmore called on his colleagues to "show humility" and change course, as he warned that voters were not preoccupied with small boats and culture wars.
"You can't repair any damage without actually accepting you've got to be able to listen and learn and re-engage," he told ITV's Peston programme.
Meanwhile, former Lib Dem leader Sir Vince Cable suggested that secretive discussions will be going on between Labour and his party.
"You can be sure that serious, but deniable, conversations will be taking place over the next year," he wrote in an article for the Comment Central website.
But a Lib Dem source responded: "Vince doesn't speak for the party. We hope he continues to enjoy his retirement."