A duck that became an internet sensation is believed to be dead after being missing for two months.
The University of York said it had been "forced to conclude" the mallard-Indian runner cross, known as Long Boi due to his tall stature, had died.
Long Boi arrived on campus in 2019 and went viral after a Reddit post incorrectly described him as "the tallest mallard duck to have ever lived… over 1m tall".
It was later confirmed the duck stood at around 70cm.
The statement said: "During his time on campus, Long Boi brought joy to staff, students, alumni and visitors to York.
"Our beautiful campus and wonderful grounds team provided a rich life for him during the four years he lived with us.
"We remain grateful for the incredible community of fans who have given their time, energy and skills to celebrating Long Boi and the abundance of wildlife found here on campus."
Tom Howes, 21, who got a tattoo of Long Boi in April while on a trip to Portugal with his university's volleyball club, said that he is still holding out hope for the duck's return.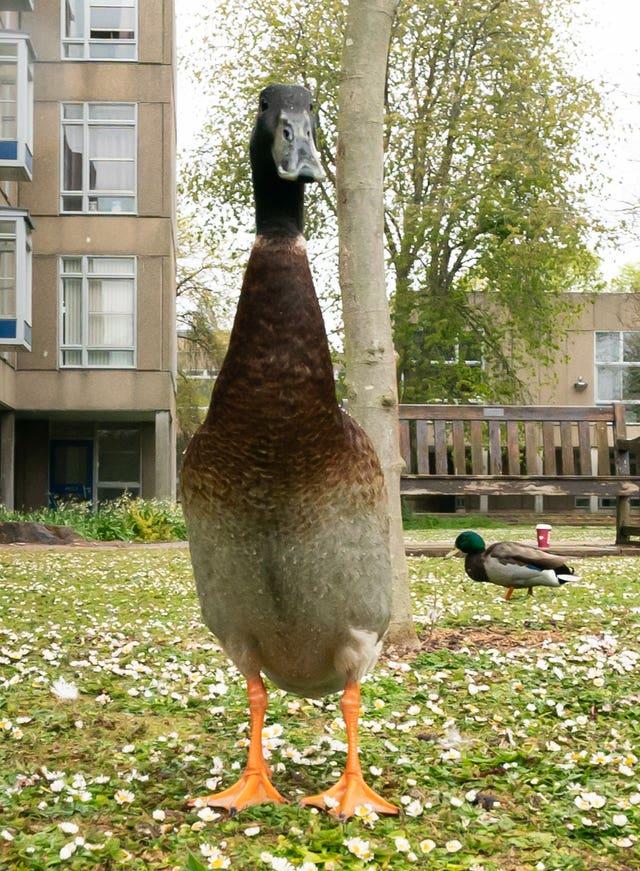 "The day his disappearance was announced was very ominous, it was like thunder and lightning on campus. I think people will come to terms with it though, today's announcement gave some closure."
The university's unofficial mascot's fame spread around the world and he was even mentioned on The Late Late Show by James Corden, who said: "Put a trench coat on that duck and he looks like two ducks trying to get into an R-rated movie".
York student union said it is working to organise "a fitting tribute" to the duck, with students asked to keep their eyes peeled for an official fundraising campaign.
Mr Howes added he would like to see a statue of Long Boi put up to commemorate his time on campus.
He said: "He's more of a symbol anyway, he was very easy to find, most people viewed him as a mascot for the university, so not much is needed for him to be remembered. He will definitely live on."