The Government has missed a key target of eliminating 18-month waits for planned NHS care such as knee and hip replacements, official figures show.
Data from NHS England shows 10,737 people were waiting more than 18 months to start routine treatment at the end of March.
This is down from 29,778 at the end of February.
The Government and NHS England set the ambition of eliminating all waits of more than 18 months by April of this year, excluding exceptionally complex cases or patients who choose to wait longer.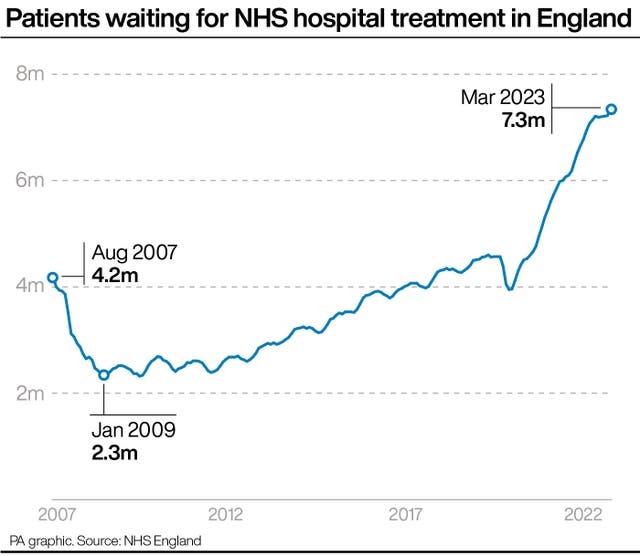 Almost half of those waiting are believed to be concentrated in 10 NHS trusts.
In January, Prime Minister Rishi Sunak pledged that NHS waiting lists will fall and people would get the care they need more quickly.
However, the figures released on Thursday show that the number of people in England waiting to start routine hospital treatment has risen to a record high.
An estimated 7.3 million people were waiting to start treatment at the end of March, up from 7.2 million in February.
The data also confirmed that a key 62-day cancer target has also been missed.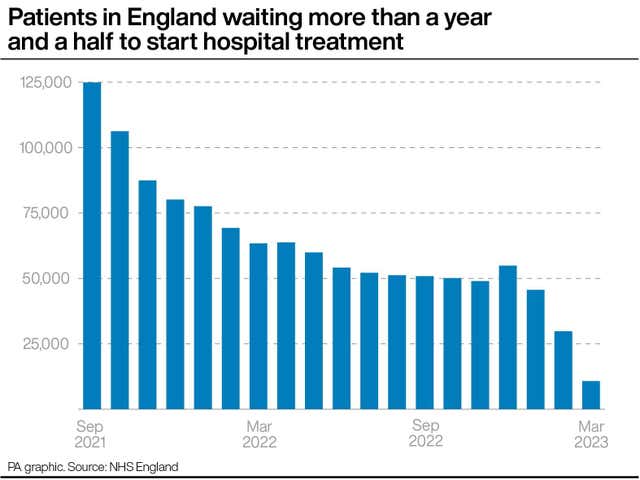 The new data shows that the number of patients waiting longer than 62 days since an urgent GP referral for suspected cancer stood at 19,248 in the week ending April 2.
The average weekly figure for February 2020 (covering the four weeks to March 1) was 13,463.
In January, NHS England wrote to trusts saying all patients who had been waiting 78 weeks (18 months) or more should have a "first definitive treatment scheduled before the end of March 2023".
The letter said: "We are… asking every organisation to book appointments for all of their 78-week cohort (patients who will otherwise breach by April) by the end of January, with outpatient appointments and treatments completed before the end of March."
Mr Sunak said on Thursday: "I promised I would cut NHS waiting lists and we are delivering.
"Reducing 18-month waits by over 90% is huge progress, and it is testament to the hard work of NHS staff who have achieved this despite one of the busiest winters on record.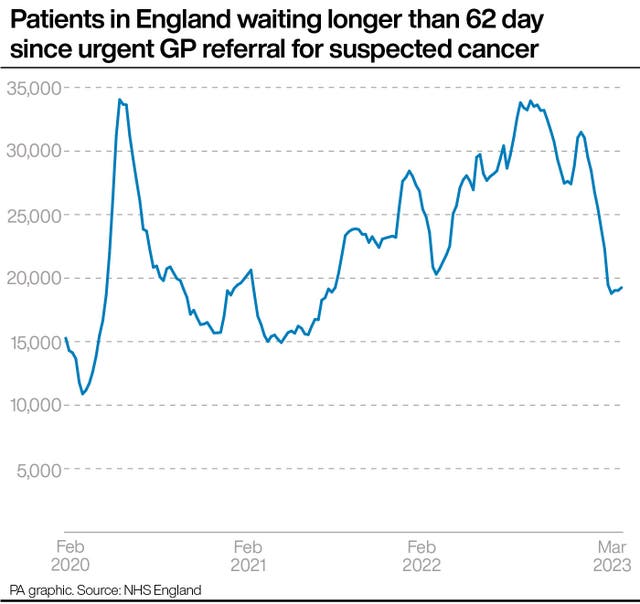 Health Secretary Steve Barclay said: "Cutting waiting lists to ensure people get the care they need more quickly is one of the Government's five key priorities.
"Thanks to the hard work and dedication of healthcare staff backed by Government support, the NHS has now cut 18-month waits by more than 91% – a significant reduction from the peak which saw almost 125,000 people waiting for treatment.
"Today's significant milestone shows we're delivering on our Elective Recovery Plan despite NHS strikes and the challenging winter.
"This comes after virtually eliminating waits of two years last summer.
"We are progressing with our plan including improving access to emergency care, with the latest statistics showing the quickest ambulance response times for the most urgent cases in almost two years.
"We will continue to work with the NHS to pull out all the stops to cut the Covid backlogs, backed by up to £14.1 billion over the next two years on top of record funding."
Shadow health secretary Wes Streeting said: "Rishi Sunak has broken his promise to end 18-month waits for NHS treatment, leaving thousands of patients in pain and discomfort for unacceptably long.
"This is just the latest broken promise that shows you can't trust the Tories with the NHS.
"Ministers blame strikes, as if they are mere bystanders. It was their refusal to speak to nurses and junior doctors that forced them out on strike in the first place.
"Labour will give the NHS the staff it needs to treat patients on time again. We will abolish the non-dom tax status to pay for training 7,500 more doctors and 10,000 more nurses a year."
Assistant director of policy at the Health Foundation, Tim Gardner, said: "Today's data confirms that the NHS has fallen short of its target to eliminate waits of over 18 months for hospital treatment…
"With services and staff under intense pressure, patients continue to pay the price.
"Resolving the current pay disputes should help avoid more short-term disruption, so the recent headway made by the Government and trade unions is welcome.
"However, this will not address the underlying challenges facing the health service and those who work in it."
Sir Julian Hartley, chief executive of NHS Providers, said: "Trusts have pulled out all the stops to cut by 90% the number of people waiting 78 weeks or more for care – a remarkable achievement against a backdrop of months of strikes, severe staff shortages and a yawning gap between capacity and growing demand…
"Staff and trust leaders deserve credit for continuing to work flat out to see people as quickly as possible and to improve the flow of patients through the whole health system.
"But there's a long way to go to get waiting times and lists down across physical and mental services to where patients and the NHS want."
The NHS data also showed that the average response time in April for ambulances dealing with the most urgent category 1 incidents was eight minutes and seven seconds, down from eight minutes and 49 seconds in March but above the target of seven minutes.
Some 407,167 patients were also waiting longer than six weeks for a diagnostic test in March, up slightly from 402,124 in February but down from 485,956 in January.