Sinn Fein vice president Michelle O'Neill has reiterated her plea to the DUP to return to the Stormont Assembly.
The DUP has been boycotting devolved government for the past year, pressing the UK government to address their concerns around Brexit's Northern Ireland Protocol.
DUP leader Sir Jeffrey Donaldson earlier insisted his party will "stand firm after this election until we have properly secured and protected our place within the United Kingdom".
Last year's Assembly election saw Sinn Fein emerge for the first time as the largest party at Stormont.
Speaking during a visit to the Balmoral Show, Ms O'Neill insisted her election message is "one of positivity".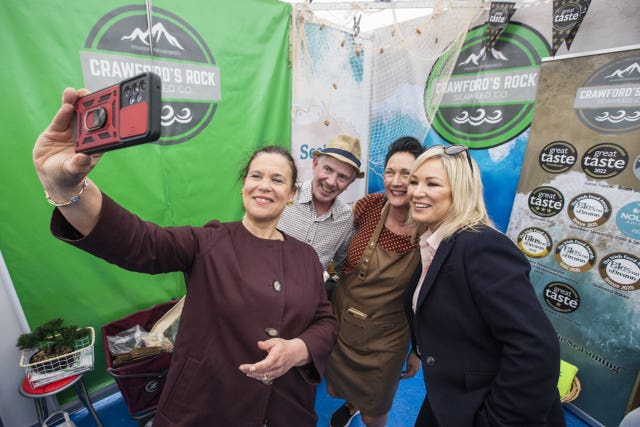 "We should have been in Stormont from last May, from immediately after the election. That remains my case today and my message to the DUP, they need to be in the Executive with the rest of us making politics work, and focusing on the future and making this a better place for everybody who lives here."
Ms O'Neill also said she rejects the assessment by some that the overall mood of the election has been flat.
"I'm out at different hustings, at different events, on the doorsteps meeting people and it's not flat in my experience, people are very engaged, and very engaged in terms of the bigger picture politics, they're being crystal clear with me that they want politics to work, they want politicians working together, they want the Executive up and running, they want us to fight back against Tory austerity and they want good local government councillors," she said.
"Actually I find it quite an engaging election."