Plaid Cymru members were "active bystanders" to the bullying, misogyny and harassment going on in the party, one of its politicians has admitted as he apologised to victims.
Cefyn Campbell, Senedd member for Mid and West Wales, told the PA news agency he had heard of incidents happening over several years and claimed many of the issues predated Adam Price becoming leader.
Mr Price quit as head of the Welsh pro-independence party on Wednesday night days after a damning review found evidence of a "toxic" culture within the group which had particularly let down female staff and discouraged people from speaking out.
The new interim leader, Llyr Gruffydd MS, who was nominated on Thursday vowed to begin tackling existing cultural problems and regain the confidence lost over the scandal.
But it comes as there is growing concern within the party that there is no obvious successor to the permanent leader role.
Mr Campbell told PA: "This is a difficult time for Plaid Cymru, it's something that other political parties have been through and the spotlight is on us now and we have to deal with that.
"We are absolutely committed to deliver on the 82 recommendations in that report, because they are so important for us to create a workplace where staff feel safe, supported and valued.
"We recognise that we've not done some things right – and this goes back a long while in the party's history and predates Adam Price's leadership.
"We can only say sorry to those who have been deeply offended and the victims of that inappropriate behaviour, and we've just got to put it right."
Asked if he had witnessed incidents of inappropriate behaviour himself, Mr Campbell said: "I haven't personally seen that, but I have heard of incidents and we have to take responsibility for that.
"Many of us have been active bystanders in many ways, and this is why many of us feel it was a little unfair to put the blame on Adam Price… because he should not have to carry the can on his own because it was a collective thing.
"But he's done the honourable thing after thinking hard about what he should do."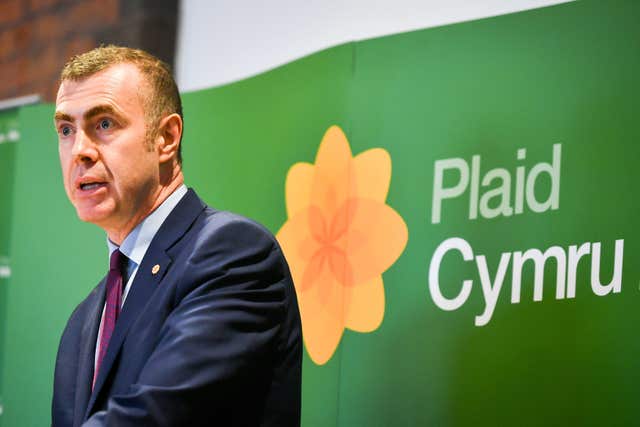 Speaking on BBC Radio Cymru on Thursday afternoon, Mr Gruffydd said it was necessary to "regain confidence, where confidence has been lost internally" in order to "start the work of restoring confidence externally".
He added: "We are not hiding the size of the challenge that lies ahead of us, that is clearly something that is going to be a central focus of mine if I have the opportunity to fulfil this role."
Mr Gruffydd's nomination for the role will have to be ratified by the party's national executive council on Saturday, but if approved it is understood he will not be able to stand in the forthcoming leadership contest.
Among names to be suggested as the next possible leader are Rhun ap Iorweth, the member for Ynys Mon, who is poised to stand as an MP.
Should he still decide to run for Parliament it would make him ineligible for the Senedd chief seat.
Delyth Jewell MS, who represents the South Wales East region, has also been mentioned, as has Senedd speaker Elin Jones who has served Ceredigion in the Welsh Parliament since 1999.
Both Mr Gruffydd and Plaid's Westminster leader Liz Saville Roberts have said whoever is chosen, going forward women within the party must feel "empowered" and their voices "elevated".
Welsh Labour MP Tonia Antoniazzi said in a tweet: "An apology to the victims of bullying and harassment should be the first thing a leader with any shred of integrity would do, then leave."