A police officer has been cleared of unlawfully inflicting grievous bodily harm on a man who was left paralysed after he tasered him.
Pc Imran Mahmood, 36, tasered Jordan Walker-Brown during a patrol in the early months of the first coronavirus lockdown on May 4 2020.
Mr Walker-Brown, who was 23 at the time, was left with "catastrophic" injuries after hitting his head on the pavement and breaking his back.
He had not pulled out a weapon and presented no "physical threat" to anyone at the time he was tasered, prosecutors had told Southwark Crown Court.
On Thursday, the jury found the officer not guilty of inflicting grievous bodily harm having started their deliberations on Tuesday.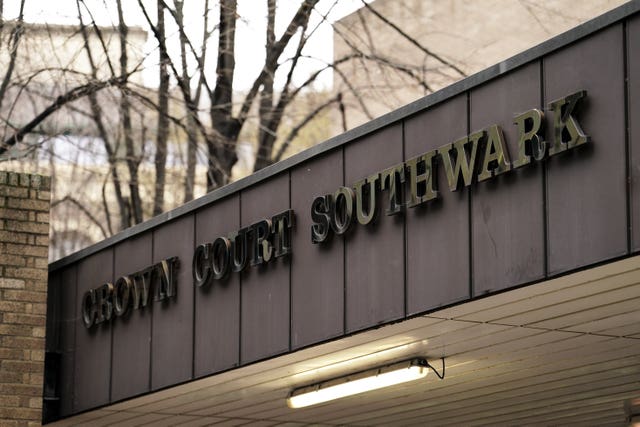 He told reporters outside the court: "I feel like he won before he got here. It's rigged. I was fighting against something that is bigger than everything.
"But I'm over it, it's done."
He added: "Win or lose, it's a losing battle."
Pc Mahmood believed Mr Walker-Brown had a weapon on him and that he could have been dangerous, the court was told.
The officer wept in the dock after the verdict was heard, as did others in the courtroom.
However, others walked out of the courtroom shaking their heads.
It came shortly after jurors were told a verdict on which 10 or 11 of the 12 agreed would be accepted.
They had been deliberating for just over nine-and-a-half hours.
The prosecutor, summing up his case, had argued the officer did not act "in the belief it was necessary to defend himself from attack".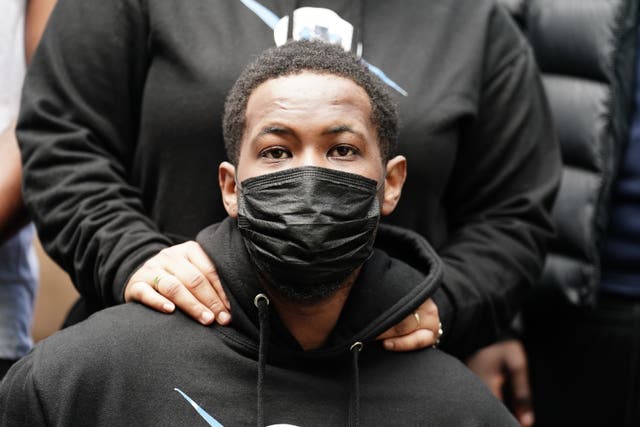 Mr Fitzgerald accused Pc Mahmood of lying and "fluffing his lines" after the defendant suggested he was trying to protect himself and his colleagues.
But the officer was told by a colleague that Mr Walker-Brown had reached for his waistband while they were chasing him, jurors also heard.
Pc Mahmood was also under the assumption there had been a rise in gang activity in the area.
Jurors were told to consider what was in Pc Mahmood's mind and whether the force he used was "reasonable".
Pc Mahmood, who was attached to the Met's Territorial Support Group, which deals with outbreaks of public disorder, was patrolling the Haringey area of north London with eight other officers when their marked van turned into Burgoyne Road.
He noticed Mr Walker-Brown walking along the pavement and decided to speak to him "to see if he could legitimately explain what he was doing in the area" during lockdown, the court was told.
Pc Mahmood did not believe Mr Walker-Brown was dressed appropriately for exercise, with his hood up and woolly hat on in warm weather, the jury heard.
The defendant and a colleague chased Mr Walker-Brown and drew their Tasers while the van followed.
The officer's Taser created an electric shock and caused Mr Walker-Brown to tumble backwards over the fence, land head first and break his back, the court heard.
Pc Mahmood said he believed Mr Walker-Brown was cornered with a knife and "about to attack".
Last week Mr Walker-Brown left the courtroom in his wheelchair as Pc Mahmood gave evidence, returning later on.
The officer teared up and wiped his eyes while telling jurors the incident has affected him "massively".
He said he "absolutely" did not intend the result and tried to direct his comments to Mr Walker-Brown and his family in the back of the courtroom.
Pc Mahmood, from Plaistow in east London, left the dock in tears after the verdict.
Detective Chief Superintendent Caroline Haines, who is responsible for policing in Enfield and Haringey, said after the verdict: "My thoughts today are with Mr Walker-Brown and his family whose lives have been changed forever.
"I don't underestimate the effect this incident will have had on them and have offered to meet with them when appropriate to listen to their concerns and discuss the matter in further detail.
"It is always a matter of deep regret when an individual comes to harm following contact with police and officers know that in such circumstances their actions will be subject to the highest scrutiny.
"I am also very aware of the significant impact this incident has had on the wider community.
"We know that today's outcome may reignite those feelings, which is why we have been working closely with key members of the community and partner agencies across the borough to listen to concerns and build on our existing relationships with all communities."
Pc Mahmood has been on restricted duties since the incident and misconduct proceedings will be considered.