The Bank of England has warned inflation is likely to remain higher for longer than it previously thought, as borrowing costs were raised to the highest level since 2008.
Soaring food prices have cast some doubt over the Government's promise to halve inflation by the end of the year.
The new forecast comes as the Bank raised the base interest rate to 4.5% from 4.25%, the 12th time in a row that rates have risen.
Inflation, which hit 10.1% in March, is expected to drop "sharply" from April this year, but there are "considerable uncertainties" over how quickly it will decline.
Unexpectedly stubborn food price inflation has put pressure on the Bank's 2% inflation target, as Russia's war in Ukraine and poor harvests in some European countries have helped ramp up the cost of living for households across the UK.
Andrew Bailey, the Bank's governor, said there had been a "very big underlying shock" to food prices.
He added: "It appears to be taking longer for food price pressures to work their way through the system this time than we had expected."
"But, as we said before, we are in very unusual times."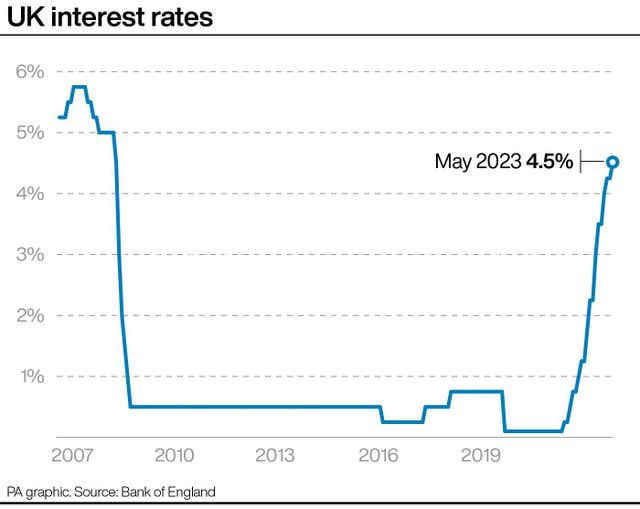 It had previously been more optimistic that inflation could fall as low as 1% by the middle of 2024, but it is now predicted to reach about 3.4%, meaning it will fall at a significantly slower rate.
Meanwhile, Chancellor Jeremy Hunt said it is not "automatic" that the Government will reach its inflation target.
Mr Hunt said: "The Bank of England is predicting that we will hit the inflation target.
"But there has never been anything automatic about hitting it.
"That is why it is so important, if we're going to bring certainty back to family finance, stop prices rising, that we stick to our plan to halve it."
Nevertheless, Mr Hunt acknowledged that higher interest rates, which make it more expensive to borrow, will "obviously be very disappointing for families with mortgages".
But he said the cost-of-living crisis will "only carry on" if inflation is not tackled.
Elsewhere in the Bank's Monetary Policy Report, its economists gave a brighter view on the outlook for the economy.
They now expect that gross domestic product (GDP) will not fall during a single quarter this year, meaning the economy is not set to decline and the UK could avoid a recession.
In February, the committee believed the economy could fall into a shallow recession starting from the first three months of the year.
Now it expects GDP to rise by 0.25% this year before a 0.75% increase next year and the year after.
It had previously forecast a 0.5% fall this year, followed by a drop of 0.25% next year and a 0.25% rise in 2025.
The increase of 2.25 percentage points over the three-year forecast period marked the biggest upgrade since the MPC was formed in 1997.
Mr Bailey said a drop in energy prices was partly responsible for the Bank's upgrade to its outlook for the economy.
He said: "There has been a substantial fall in energy prices.
"Let's face it, when we were sitting in November we were looking at the prospect of a very difficult winter, some probability that Europe was going to experience periods where gas supplies may be restricted.
"It all looked very bleak and that was reflected in the price, and that turned out not to be as bad as expected."