A driverless bus has taken passengers across the Forth Road Bridge, marking the launch of the UK's first autonomous bus service.
Scotland's transport minister Kevin Stewart was one of the first to strap in for the short journey as the Stagecoach vehicles were tested on the service between Ferry Toll near Inverkeithing, Fife, and Edinburgh Park.
The service will operate on a trial basis until 2025 and each bus will have two members of staff – a safety driver who can take control of the vehicle, and another "captain" to sell tickets and provide customer service.
While buses generally have just one driver, the captain is on board to demonstrate what a full-size autonomous bus may feel like in the future when the buses can operate with one member of staff who can leave the cab while the computer does the driving.
A fleet of five Alexander Dennis Enviro200AV vehicles will cover a 14-mile route, in mixed traffic, at up to 50mph across the bridge.
As the driver lifted his hands from the wheel for the first time, Mr Stewart assured the rest of the passengers he felt "very safe".
He told the PA news agency: "It's absolutely fantastic to see this autonomous bus testing here. We want Scotland to be at the very forefront of this technology.
"I'm pleased to have had the opportunity to travel on one of these autonomous vehicles.
"I felt very safe on the bus, there has been a huge amount of testing. There were staff on board. I hope the people of Fife and Edinburgh come to see for themselves just how safe all of this is.
"We need people to use public transport more, whether that be buses or trains. We're doing all that we can to encourage people on to public transport.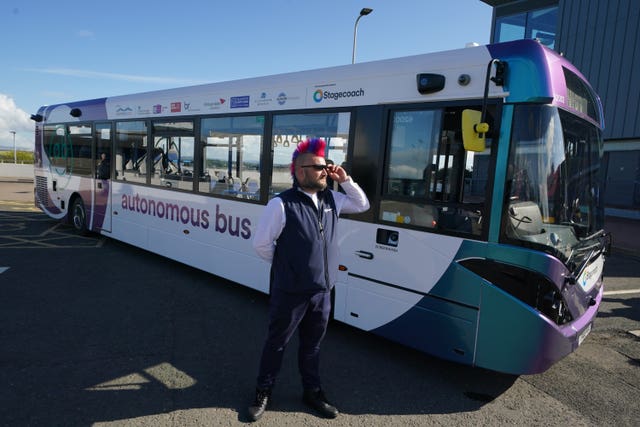 "We all have a part to play in carbon reduction and using buses and trains as a way to do that."
The buses have completed one million testing miles so far, and the vehicles have attracted the attention of the world's media.
Director of Stagecoach Sam Greer said: "When you consider the billions of dollars spent globally on autonomous bus transport, I'm not surprised there is worldwide media interest.
"Five buses will operate between Ferry Toll park-and-ride and Edinburgh Park.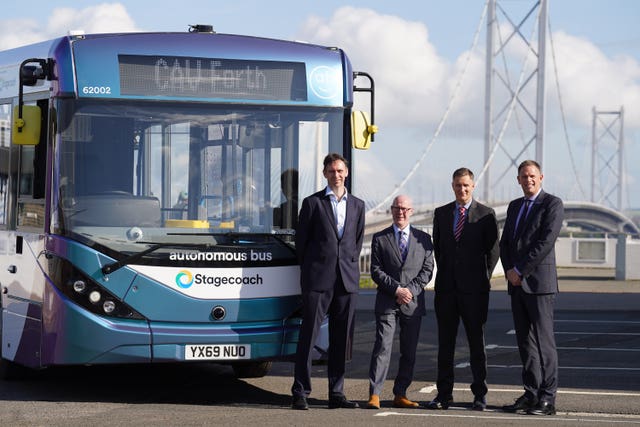 "I would say to anyone who is a bit cautious about using the vehicle not to be, there is a full safety case that has been worked through.
"The vehicle has been certified as safe for public use."
The service will start taking paying customers across the Firth of Forth on Monday.