A hearing to vet security files ahead of an inquest into the death of IRA man Kevin McGuigan has been delayed.
It had been due to take place in early June but a barrister for the Police Service of Northern Ireland (PSNI) said this would not be feasible due to the volume of material to be prepared.
Mr McGuigan, a father of nine, was shot in the Short Strand in Belfast in August 2015.
His murder prompted a political crisis at Stormont amid claims IRA members were involved in the killing.
It has since been scheduled to sit in September.
A separate hearing needed to consider any applications made by police or the security services to redact evidence on public interest immunity (PII) grounds had been due to take place in June.
During a preliminary hearing ahead of the inquest on Friday, Coroner Paddy McGurgan heard material would not be ready to proceed for the PII hearing in June.
Peter Coll KC for the PSNI told Belfast Coroner's Court he had consulted with his clients around the PII hearing dates, but "it seems I'm afraid very clear it will not be possible to have in place by that date the required Public Interest Immunity certificate".
"There has been, and is ongoing, a very large amount of work in order to prepare the materials for PII," he said.
"But it seems clear to us, given the complexity and volume of the task at hand, that it will not be feasible to meet those dates.
"It's a matter of regret but it's only right that we set out that as being the position at this point in time."
Mr Coll added that a further number of weeks may be sufficient for the work.
Laura McMahon for the McGuigan family said this was incredibly disappointing news for the next of kin as it "brings into play the possibility that the September dates are not as fixed as we had anticipated".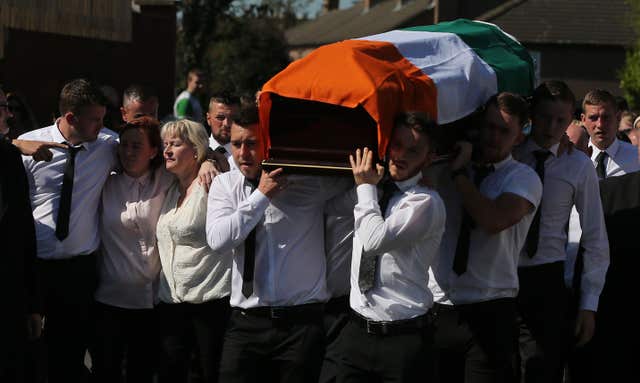 Later, Mr McGurgan said after hearing representations, it was "unfortunately clear to me that the 8th, 9th and 12th are not achievable".
He said he had set aside two weeks in September to hear the inquest, and did not want to lose those dates.
The PII hearing is now planned to take place from July 5-7.