An NHS doctor has described worrying scenes in Gaza as "hundreds" of cancer patients go for days without treatment due to ongoing fighting between Israel and Palestinian militant groups.
Nick Maynard, a consultant surgeon for Oxford University Hospitals NHS Trust, travelled to the Palestinian city for three days of keyhole surgeries on cancer patients along with fellow NHS doctor Bijendran Patel, from the Royal London Hospital, at the end of last week.
The two doctors had planned to work Monday to Wednesday, performing operations on patients in Gaza, but were only able to work for a day before fighting broke out.
Mr Maynard, 61, who is working with Medical Aid for Palestine, said he has seen "rockets" and destruction since the fighting broke out and the doctors have been told they cannot leave their city centre hotel.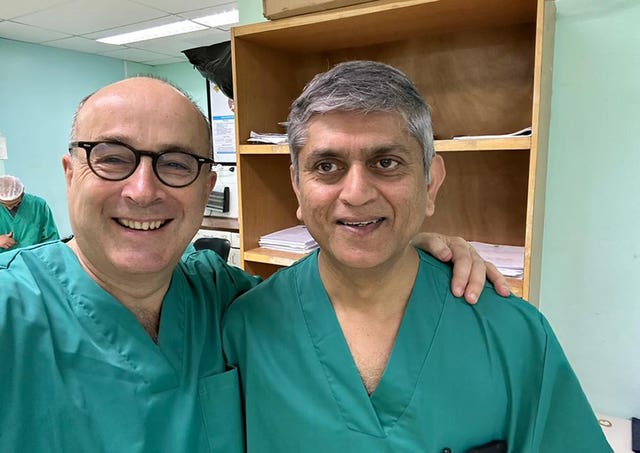 "We're now confined to a hotel and none of our surgeries have been able to go ahead. A small percentage of patients have been allowed out but we estimate there are a few hundred patients not getting the treatment they need."
The father-of-three, who also trains doctors in the city, said there is nowhere for patients to receive radiotherapy and only limited chemotherapy on offer in the area, with patients needing to travel to Jerusalem or the West Bank for treatment.
He said 12 other UK nationals are among more than 100 humanitarian workers banned from crossing the border in order to get home and flee the conflict.
Dr Maynard said: "Every day we hope it's going to be the day (the borders reopen).
"We were all pretty hopeful that on Wednesday or Thursday it was going to be the day something would happen. We understand there's no chance that anything will happen today because it's the Sabbath.
Fighting broke out between the groups earlier this week when Israel killed three senior Islamic Jihad commanders who it said were responsible for firing rockets towards the country last week, with four days of bombings and fighting carrying on throughout the week despite hopes of a ceasefire.
Dr Maynard said his real frustration is being unable to help those in need.
"The ones who should have been going over the border are the ones who need the treatment," he said.
"There's no radiotherapy here and very limited chemotherapy for patients. Depending on how long this goes on for, it changes the prognoses for those who are ill.
"There's huge concern about them and the longer this goes on the more dangerous it is for them."