The UK has no plans to supply jets to Ukraine but a new flying school will help train Kyiv's pilots and the Government pledged to work with allies on securing the planes Volodymyr Zelensky needs.
In an announcement made as Mr Zelensky met Rishi Sunak for talks at Chequers, the Government said an "elementary flying phase" for groups of Ukrainian pilots would begin this summer.
The move will adapt the programme used by UK pilots to provide Ukrainian counterparts with skills they can apply to different kinds of aircraft.
When Mr Zelensky visited the UK in February he was pleading with Western nations for jets – presenting Commons Speaker Sir Lindsay Hoyle with a pilot's helmet as he called for "wings for freedom".
At the time, the UK was under pressure from supporters of Mr Zelensky – including former prime minister Boris Johnson – to hand over British Typhoon jets.
But Government officials questioned how suitable the aircraft would be, given the length of training required to fly it and the logistical support needed on the ground.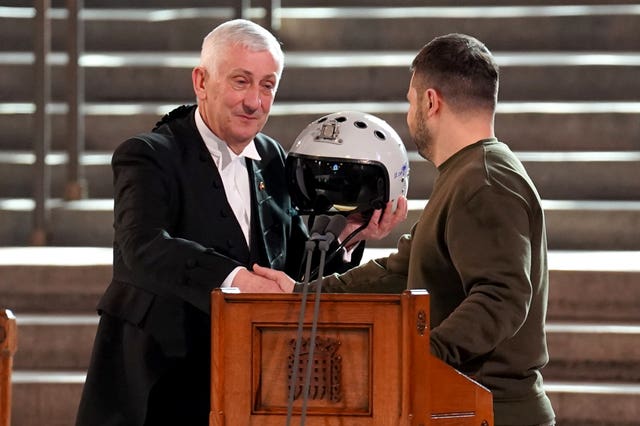 But Mr Sunak said the prospect of training Ukrainian pilots with Nato tactics was "an important part of the long-term relationship between our countries".
The Prime Minister said the UK would be "training Ukrainian citizens to be absolutely combat-ready aircraft pilots" with knowledge of Nato tactics.
"It is not a straightforward thing – as Volodymyr and I have been discussing – to build up that fighter combat aircraft capability," Mr Sunak said.
"It's not just the provision of planes, it's also the training of pilots and all the logistics that go alongside that and the UK can play a big part in that.
"One thing we will be doing, starting actually relatively soon, is training of Ukrainian pilots and that's something we've discussed today and we're ready to implement those plans in relatively short order."
The Prime Minister's official spokesman said: "The Ukrainian government has made the decision to train their pilots on F-16 jets, that's a decision for them.
"Obviously, I believe, they are in discussions with other countries who use those jets and we are working with those countries."