The Prime Minister will warn European leaders during a gathering in Iceland that the international system for policing human trafficking is "not working".
Rishi Sunak will tell the Council of Europe meeting in Reykjavik that both European communities and the world's most vulnerable are "paying the price" for the failure to prevent unlawful migration.
It comes as Mr Sunak's Conservative administration attempts to pass into law measures designed to stop asylum seekers crossing the English Channel in small boats.
During his time in the Icelandic capital, Mr Sunak will hold talks with the European Court of Human Rights (ECHR) over reforms to how Rule 39 works — an order that prevented the inaugural deportation flight taking asylum seekers to Rwanda last year.
Speaking ahead of his trip, the Prime Minister said: "Every single point on each route used by people traffickers to smuggle people across our continent represents another community struggling to deal with the human cost of this barbaric enterprise.
"It is very clear that our current international system is not working, and our communities and the world's most vulnerable people are paying the price.
"We need to do more to co-operate across borders and across jurisdictions to end illegal migration and stop the boats.
"I am clear that as an active European nation with a proud history helping those in need, the UK will be at the heart of this."
The trip comes as migration tops the political agenda, with Home Secretary Suella Braverman arguing in a speech at Monday's National Conservatism conference that Britain "must not lose sight of the importance of controlling legal migration", as well as preventing people from entering via unauthorised channels.
The Daily Telegraph reported that the Home Office has privately shared figures with No 10 suggesting more than 1.1 million foreign workers and students could arrive in Britain in 2024/25, just as the Tories face a general election test.
Official figures to be released later this month are expected to show net migration of between 650,000 and 997,000 in 2022.
The 2019 Conservative Party manifesto pledged overall migrant numbers would "come down".
Ahead of Mr Sunak's diplomatic efforts in Iceland on the topic of human trafficking, a Downing Street official said the challenge of unlawful migration was not only a UK issue.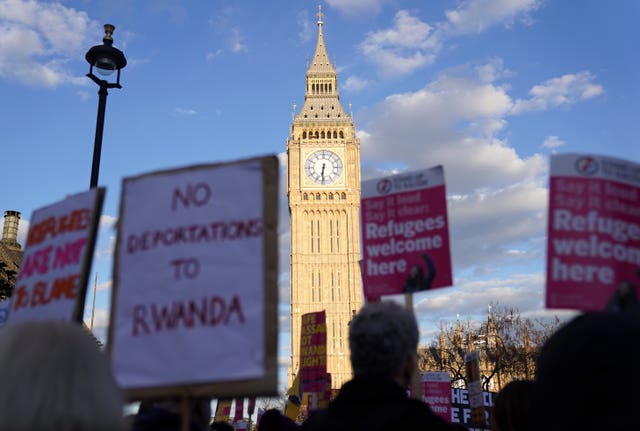 Mr Sunak and Mrs Braverman have unveiled a host of measures to tackle the flow of asylum seekers using unofficial routes to come to Britain, as part of the Illegal Migration Bill which is currently at its committee stage in the House of Lords.
The plans have come in for fierce criticism, with Archbishop of Canterbury Justin Welby using a speech in the Lords last week to label the Bill "morally unacceptable and politically impractical".
Downing Street said the Prime Minister will argue during his trip to the Council of Europe that individual measures, such as his policies designed to stop the boats, must go hand-in-hand with international co-operation to establish a global asylum framework fit for purpose.
The Council of Europe was established following the Second World War to uphold democracy and freedom throughout the continent.
Tuesday's gathering is only the fourth time the institution, which counts 46 countries as members, has met since its founding in 1949.
Mr Sunak is due to address the summit before holding bilateral meetings with individual European leaders.
No 10 said the Conservative Party leader intends to discuss ECHR reform, including on Rule 39, when he meets court president Siofra O'Leary.
The council's meeting, which Ukrainian president Volodymyr Zelensky is due to join virtually, will also focus on the situation in Ukraine and how international allies can hold Russia to account for breaches of international law since the invasion of Kyiv.
The Prime Minister will sign the UK up to the Register of Damages to ensure the people of Ukraine are compensated for the losses incurred as a result of Russian president Vladimir Putin's war, No 10 said.
The register is a mechanism to record and document evidence and claims of damage, loss or injury as a result of Russian aggression against Ukraine.