A farming industry head has welcomed the "very positive" Downing Street food summit amid warnings that consumers continue to face "enormous" inflation pressures.
National Farmers' Union president Minette Batters told the PA news agency that the food summit was "timely".
Speaking outside Downing Street after the meeting, she said: "I think the move was very positive. It's the first Farm to Fork food summit that number 10 have ever hosted and extremely timely because, of course, we're facing enormous cost inflation pressures."
The union leader said she had 10 minutes alone with Prime Minister Rishi Sunak and spoke to him about the widescale drop in egg production, the supermarket rationing seen earlier this year of salad ingredients and how to make Britain more self-sufficient.
She said: "I'm really confident that he gets the issue. He is from a very rural constituency, farming is at the heart of his constituency.
"I think there has to be realisation in government that a lot of the regulation and legislation that we're facing into is very costly."
The NFU president said people should feel "reassured" that retailers are doing what they can to give them a wide range of access to British foods.
Food and Drink Federation chief executive Karen Betts described the summit as a "constructive first step in addressing some of the complex challenges the UK food system is currently facing".
She added: "However, it's a pity there wasn't more of a laser focus on immediate issues and the drivers of inflation. While some of these are beyond everyone's control, many are not.
"Action to fill labour and skills shortages and to simplify current and upcoming regulation, as well as simplifying post-Brexit labelling changes, would help to drive down prices."
Environment Secretary Therese Coffey said: "Bringing together the food sector today, whether it's retailers, people from hospitality, people who grow food, the processing, it's all been an important part of a discussion on what it is that we can do to make sure that we get on with farmers producing the best British food possible.
"We made a significant number of announcements today about a variety of investments about what we can do to help with exports around the world.
"All those sorts of things help improve the profitability for farmers in order to make sure that we continue to have that sustainable food production here."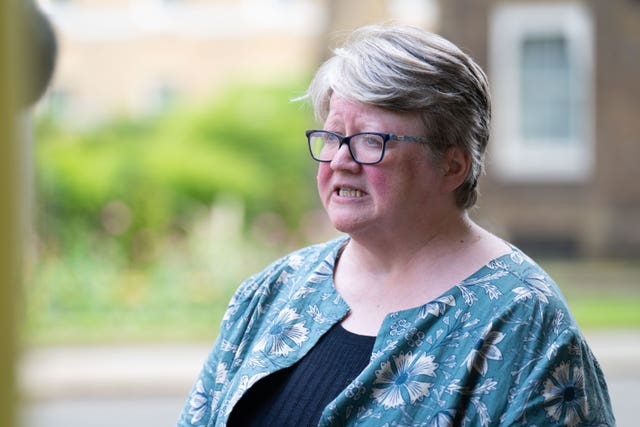 Vicki Hird, head of sustainable farming at food charity Sustain, which was not invited to the summit, said it was "exasperating to hear the Government say it intends to support the horticulture sector".
"They have been saying this for years without any serious action. We import much of our fruit and vegetables from climate-stressed countries and earlier this year saw those supplies interrupted and shelves empty.
"Outsourcing food supply policy to the private sector has resulted in us becoming a nation dependent on junk food. Food security is about ensuring we all have access to healthy and sustainable food.
"Government needs to get a grip and produce a decent strategy that covers our food system from farm to fork."
Rob Haward, chief executive of organic vegetable box firm Riverford, which delivers to about 70,000 customers a week but was also not invited to the summit, said: "Supply chain resilience will not be achieved if we continue a race to the bottom on food prices.
"Shortages on our shelves at the end of February showed how vulnerable the UK became when European supply tightened.
"Why would growers with shortages of their crops choose to sell into the UK over other countries in Europe when they are faced with more red tape, regulatory uncertainty and many years of unsustainable price pressure?
"There is a danger that in the pursuit of driving down inflation we just create supply chains that are more vulnerable to ever increasing shocks.
"We have shown it doesn't have to be this way. At Riverford we commit to working with growers for the long-term, paying them fair prices, and taking what we commit to each season. I am sure this approach has given us extra resilience in difficult times."