Britain's unemployment rate has risen again unexpectedly while vacancies have fallen to the lowest level for 18 months as economic uncertainty weighs on the UK's jobs market, according to official figures.
The rate of UK unemployment rose to 3.9% in the three months to March, up from 3.8% in the previous quarter and the highest level since the three months to January 2022, the Office for National Statistics (ONS) said.
The number of vacancies fell by 55,000 quarter on quarter to 1.08 million in the three months to April, marking the 10th fall in a row.
The ONS said this reflects "uncertainty across industries, as survey respondents continue to cite economic pressures as a factor in holding back on recruitment".
In another sign of a flagging jobs market, the more timely PAYE figures showed the first fall in workers on payrolls since February 2021, down 136,000 to 29.8 million.
"This means the number of those neither working nor looking for work continues to fall, although the number of people not working due to long-term sickness rose again, to a new record.
"However, the number of people on employers' payrolls fell in April for the first time in over two years, though this is an early estimate that could be revised later."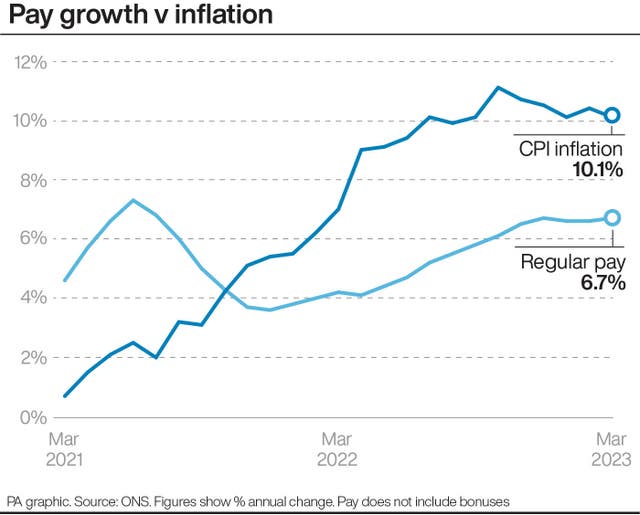 The figures indicate that while more people are returning to the jobs market, not all of those looking for jobs are able to find work.
And the number of those off work due to long-term sickness rose to a new record high, at more than 2.5 million, the ONS said.
This is despite another rise in average regular pay growth, to 6.7% in the three months to March.
Chancellor Jeremy Hunt said: "It's encouraging that the unemployment rate remains historically low but difficulty in finding staff and rising prices are a worry for many families and businesses.
"That's why we must stick to our plan to halve inflation and help families with the cost of living."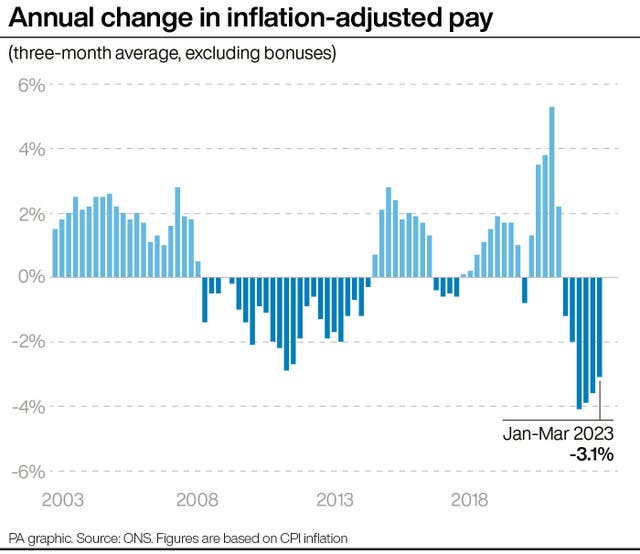 But the pay gap between public and private sector is narrowing.
The ONS said average regular pay growth for the private sector stood at 7% in the three months to March and 5.6% for public sector workers – with the latter being the largest since August to October 2003.
The figures showed the number of unemployed Britons rose by 60,000 to 1.3 million in the three months to March, while those in employment also lifted – by 182,000 to 33 million.