A lorry driver has claimed he was "not aware" of offensive chanting about murder victim Michaela McAreavey when he streamed a video from a Co Down Orange Hall.
Andrew McDade made the claim at an industrial tribunal as he challenged the decision by his former employer to dismiss him in the aftermath of the Facebook Live broadcast last May.
He had been attending an event at Dundonald Orange Hall when he live-streamed footage of singing which appears to mock the daughter of the former Tyrone GAA manager Mickey Harte who was murdered while on honeymoon in Mauritius in 2011.
The clip sparked widespread condemnation across the political sphere in Northern Ireland and beyond.
However Mr McDade contends he was not aware of the offensive chanting and had simply been streaming to "show the atmosphere of the day" at an event to mark Northern Ireland's centenary, adding he could not be responsible for the actions of others during a live stream.
His employer became linked with the video because Mr McDade's Facebook profile description included their name.
Mr McDade was suspended on June 3, while an investigation was carried out, and then dismissed. He did not appeal his dismissal last year.
During the industrial tribunal hearing in Belfast, representatives from Norman Emerson Group said they feared reputational damage to their firm, which included the GAA among its customers, after the clip went viral.
They said they had requested the full four-minute video but were told it no longer existed because Mr McDade had deleted his Facebook account.
As he began his evidence, Mr McDade repeated an apology he made last year to the Harte and McAreavey families for the video, which he said he was ashamed of.
Frank O'Donoghue KC for the Norman Emerson Group questioned Mr McDade on whether he had written a letter of apology to the two families and made a donation to a charity of their choice, as he had committed to in his apology statement last year.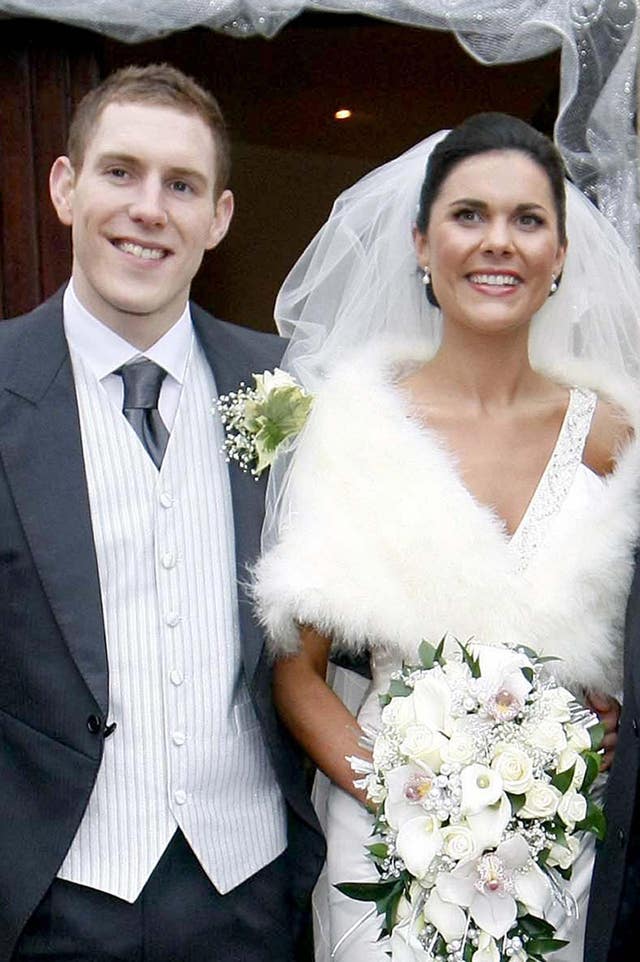 Mr O'Donoghue also asked Mr McDade if he had been drunk when he took the video, to which the claimant responded: "Definitely not."
It was pointed out to him that his apology statement last year referred to "actions fuelled by alcohol". Mr McDade said he had had two cans of beer, but was not drunk.
Mr O'Donoghue described the Emerson family and their firm as non-sectarian, and that managing director George Emerson, who is a friend of the Harte family, phoned them to apologise for the actions of one of his employees.
Under questioning, Mr McDade contended the full four-minute video had included him moving around the hall taking in Orange bannerettes on display.
The shorter clip of the full video was shown to the hearing room.
Mr O'Donoghue noted the video ended as the song ended, and put to Mr McDade it is "plain as the nose on your face that you were videoing that song", to which Mr McDade replied: "No", adding that the clip was taken from a longer video.
The barrister also put to Mr McDade he had meant to broadcast to just his friends on Facebook but as the live stream was public, the video went viral and he was "found out".
"You knew exactly what you were posting, and it's an insult to everyone's intelligence to suggest you didn't," Mr O'Donoghue stated.
The video was removed in the early hours of June 3.
Mr McDade said he removed the video because he had been getting threats, and also deleted his Facebook profile for his own safety.
Mr O'Donoghue, however, put to Mr McDade that he had "removed the evidence".
Under questioning by his own representative, Mr Bryson, Mr McDade said if he had been aware of the offensive chanting he would have removed the video earlier.
Mr Bryson said the clip was taken of the video by an SDLP representative and "deliberately edited and put online for political gain".
Earlier in the day, Norman Emerson Group business development director Conor Jordan, who conducted the investigation into Mr McDade, gave evidence.
He described a cross-community business which employs from both denominations and was built on good relations.
Mr Jordan said while the GAA is an important customer, he said that was not the sole reason for the decision to dismiss Mr McDade.
"This was going global, it was going viral, and the negative exposure for the company was startling," he said.
The hearing is set to resume on Wednesday morning for final submissions.
On Monday, Mr McDade's partner, nursing assistant Rhonda Shiels, appeared in a case challenging the decision by the Southern Health and Social Care Trust to dismiss her after she liked and shared the Facebook Live recording.