More seasonal fruit pickers will be allowed into the UK if they are needed, Rishi Sunak has said after the Home Secretary pushed for lower migration.
The Prime Minister confirmed during a farming summit in Downing Street that an extra 10,000 visas could be made available on top of the 45,000 currently allocated to the agricultural sector.
His comments were in apparent contrast to those made by Home Secretary Suella Braverman, who on Monday said Britain could train its own fruit pickers.
"But for you to plan, we know that you need to know the numbers, so today I can confirm another 45,000 visas for next year, with the capacity for a further top-up of 10,000, and I know that's something many of you have asked for and I'm pleased that we can deliver that today."
He said the Government was responding to the needs of farmers with the extra visas.
Challenges facing the food industry including continued high prices were discussed at the summit earlier on Tuesday, after the Prime Minister pledged to give farmers greater protections in future trade deals.
Which? analysis of April prices on more than 26,000 food and drink products at Aldi, Asda, Lidl, Morrisons, Ocado, Sainsbury's, Tesco and Waitrose found that inflation had eased slightly in categories that had previously seen the highest rises, including milk, butters and spreads and bakery items.
But other essential food groups like meat, fish and vegetables have continued to climb month on month.
It comes after Ms Braverman spoke about "the importance of controlling legal migration".
In a speech at the National Conservatism conference on Monday, the Home Secretary said: "It's not racist for anyone, ethnic minority or otherwise, to want to control our borders."
After her remarks, Downing Street insisted the focus on cutting net migration was in line with the Government's approach.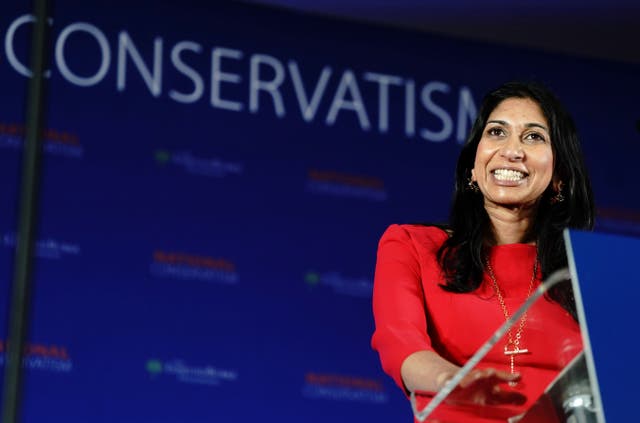 "So we have confirmed another 45,000 visas will be available next year. That's what they'd been asking for… that provides the certainty so they can plan.
"The scheme has flexibility in it so we can adjust accordingly."
Asked if more Britons should be trained to pick fruit, the spokesman said "absolutely", but added: "Another area we're investing in is automation. We're providing extra support to help industry with that move.
"That would be another way to help put a downward pressure on costs."
Former food tsar Henry Dimbleby said Mr Sunak was "getting the train back on the tracks" with his pledge to protect farmers.
"So there was a quite complicated, hugely ambitious programme to move our farming to produce not only food but restore biodiversities … then it was comprehensively blown up by Boris Johnson and Liz Truss," the businessman, who previously led an independent review into the UK's food system, told BBC Radio 4's PM programme.
"Liz Truss did a trade deal with Australia which broke the manifesto commitment to protect UK standards. As prime minister, she rebranded Defra as a growth department, recently they scrapped the horticulture strategy and they restricted, completely unnecessarily, seasonal workers as part of some kind of immigration culture war.
"Farmers went from being nervous but kind of backing the programme to being scared and not really understanding this completely illogical, incoherent approach the Government was taking."