A senior Tory has called for his party to pursue "authentic" conservatism rather than the "sugar-free" version accepted "by our liberal masters".
Sir John Hayes warned that there was a "widening chasm between the people of Britain and the elite who profess to serve them" during a speech to the National Conservatism conference in Westminster.
He said: "You know, as I do, that the solution is to be found in conservatism. But not in the desiccated, hollowed-out, sugar-free conservatism deemed to be just about acceptable by our liberal masters.
"Too many conservatives opt out of conflict, instead seeking the approval of the very establishment which wants to grind them into the dust.
The Lincolnshire MP also used his speech to warn that mass immigration and "overwhelming" population growth threatened to strain public services and change Britain's towns and cities "beyond recognition.
A key ally of Suella Braverman, who spoke at the conference on Monday, Sir John chairs the "anti-woke" Common Sense Group of Tory MPs and was at the centre of the row over leaked policy documents that saw Ms Braverman dismissed from her first stint as Home Secretary by Liz Truss.
In a wide-ranging speech on Tuesday, Sir John criticised Tony Blair's creation of the Supreme Court as constitutional "vandalism", described Gina Miller's legal challenges to Boris Johnson's Brexit policy as "malevolent" and claimed devolution "threatens to tear our precious union of nations apart".
He went on to argue that the law "now empowers protesters to prevent law-abiding citizens from getting to work" and "enabled permissive abortion laws to be imposed on Northern Ireland explicitly against the wishes of the public".
The Public Order Act, which received royal assent shortly before the coronation, gave the police more power to remove slow-walking protesters from roads.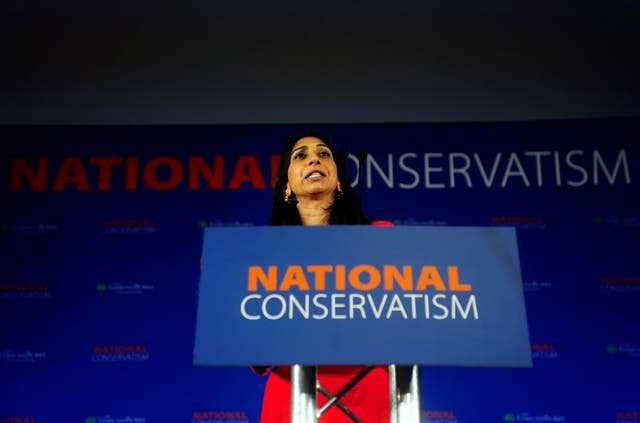 "We must be unafraid to pursue policies which enjoy popular support, which fuel the common good and elevate the people."
Among those policies, he said, were creating an education system that did not "indoctrinate or perpetuate fringe ideas such as gender ideology or critical race theory" and a police force that would arrest "delinquents and deviants".
He added: "It means an immigration system driven not by the demands of amoral big business but in tune with the will of the people, cognisant of the social and cultural pressures that mass immigration brings.
"It means ending the overwhelming population growth which strains public services and changes beyond recognition the character of our towns and cities."