James Cleverly will seek to "renew and enhance" ties with the Caribbean and South America on a four-country trip in which he will announce funding to help protect the region's climate and security.
The Foreign Secretary will offer UK support to safeguard the Amazon rainforest and counter serious and organised crime, according to the Foreign Commonwealth and Development Office (FCDO).
The whirlwind seven-day trip, focused on issues including democracy, the environment and shared values, will see Mr Cleverly travel to Jamaica, Colombia, Chile and Brazil.
He will then head to South America to deliver a keynote speech on the UK's future relationship with the region.
It marks the first visit by a UK foreign secretary to the Caribbean since 2017 and the first to South America since 2018.
Mr Cleverly said: "This is a milestone year in the history of UK relations with countries across Latin America and the Caribbean.
"While I look forward to celebrating our close bonds of friendship and family, I am also here to renew and enhance our ties for the years ahead.
"It is a partnership that will be marked and strengthened by our shared values of freedom, democracy and concern for the state of our planet."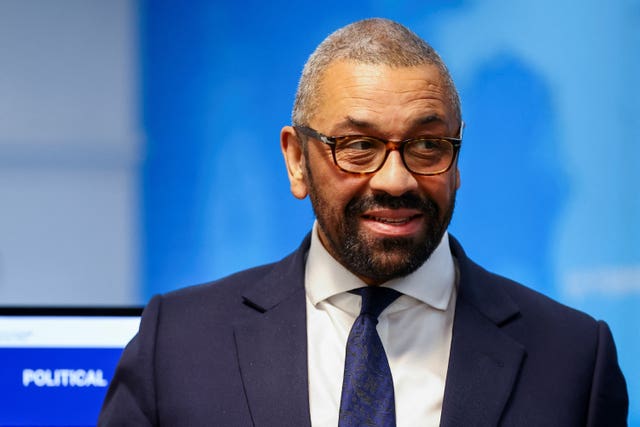 Mr Cleverly will visit the Amazon frontier region of Guaviare before giving a speech in Chile's capital Santiago setting out the UK's approach to South America and like-minded powers around the world.
The speech will refer to the bicentenary of UK-Latin America relations in British embassies across the continent – 200 years after the region's struggle for independence from colonial rule.
The visit will end in Brazil, where the Foreign Secretary will sign a "climate partnership" with his hosts on green growth and travel to the Amazon.
The FCDO said Mr Cleverly would emphasise the UK's support for Brazilian democracy at the national Congress, which was attacked by a mob of supporters of former president Jair Bolsonaro in January following his electoral defeat.
It comes after the Government joined the Comprehensive and Progressive Agreement for Trans-Pacific Partnership (CPTPP) – a trade deal which includes Chile and Peru.
The agreement marked Britain's biggest trade deal since leaving the EU but critics say the impact will be limited, with official estimates suggesting it will add just £1.8 billion a year to the economy after 10 years, representing less than 1% of UK GDP.
The Government's updated integrated review in March reinforced a post-Brexit "tilt" towards the Indo-Pacific region as a "permanent pillar" of British foreign policy as well as deeper ties with other influential actors such as South America.