A senior Metropolitan police officer has denied the force was put under political pressure to protect "the look" of the coronation by cracking down on protesters.
The force faced fierce criticism of arrests made around the event, including volunteers who handed out rape alarms and six members of the campaign group Republic that had liaised with police for weeks before the coronation to organise their own protest.
A complaint has also been lodged by royal fan Alice Chambers, 36, was held in custody for 13 hours after being mistaken for a Just Stop Oil protester as she waited on the Mall hoping to catch a glimpse of the King.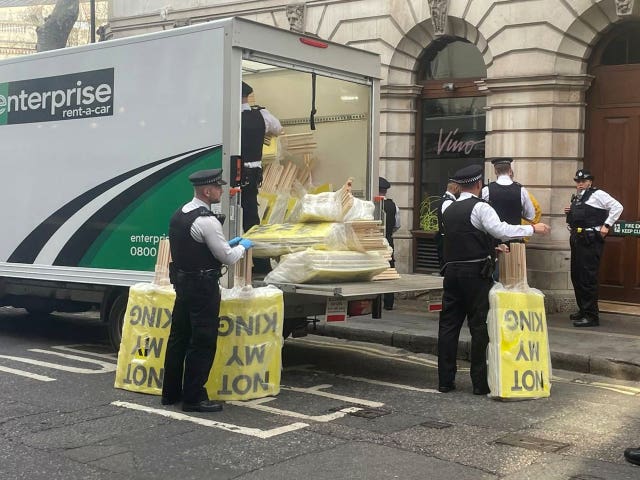 On Wednesday, Metropolitan Police Temporary Assistant Commissioner Matt Twist told MPs: "I felt under no pressure politically, I felt pressure to deliver a safe and secure operation, but that was because of the fact that it was a once-in-a-lifetime event for so many people and there would be hundreds of thousands of people in London to celebrate it, and also and importantly, this was the biggest protection operation we have ever run.
"There were 312 protected people that we managed to get in and out of the Abbey and across the footprint in about 90 minutes. So the stakes were enormously high, so I absolutely felt pressure to deliver a safe and secure operation. But that wasn't political pressure."
Mr Twist told the Commons Home Affairs Committee that officers had faced "the most challenging, fast moving and complex policing picture we've ever encountered for national celebration".
The six Republic members were the first people to be arrested under the sweeping Public Order Act, brought in days before the coronation.
They were held under suspicion of going equipped to "lock-on" – a measure protesters use to make it harder for police to move them – but later released without charge.
Metropolitan Police Commissioner Sir Mark Rowley has defended the force's actions in a letter to London Mayor Sadiq Khan, saying: "Had our officers not acted on reasonable grounds, based on the evidence in front of them in the moment and the potential risk to the event, there would now be much more serious questions to answer about the event."
"We are continually balancing the rights of those who seek to protest with those who are impacted by it," he told the committee.
"And what we have seen latterly is there is a sort of fine line between what is peaceful protest and what is straying into illegal activity, as we've seen in the latter part of last year and start of this year, and the shifting of those scales taking place.
"Where crime is being committed, we need to intervene much more quickly."
Told that there was no history of Republic using lock-on tactics, he said officers on the ground did not know that the straps would be used to secure placards.
Mr Twist said: "Officers have to make a difficult judgment at the time, in the moment, based on what they are faced with and based on the information they have.
"They have to form reasonable grounds for an arrest and, as the committee will know, reasonable grounds is actually quite a low threshold and is much lower than where you would need grounds to meet the evidential test to charge and a public interest test to charge. So what was found was 12 heavy-duty material straps with combination locks on them, which the officers were told was for securing placards.
"But at the time the officers were operating in a threat environment where they believed, taking into account the time, the location, proximity to the route and what they had in front of them, those officers believed that those could be items that could be used for locking on, and that was why the arrest was made."