Sir Keir Starmer has indicated Labour will back long-promised Government plans to abolish no-fault evictions after a minister insisted the proposals "strike the right balance" – despite critics arguing loopholes could see the rules side-stepped.
The Opposition leader said the Renters' (Reform) Bill introduced by Housing Secretary Michael Gove to allow tenants to challenge poor landlords without losing their home was "broadly right".
Under the plans, a new ombudsman will be established to oversee dispute resolutions while a digital "property portal" will be set up to assist property managers in understanding their obligations.
Renters will also be given the legal right to request a pet in their home which landlords must consider and cannot unreasonably refuse, according to the Department for Levelling Up, Housing and Communities (DLUHC).
"I think we've got to strike the right balance here between ensuring that renters can have somewhere safe and secure to live and have a normal life there, and also ensure that some rogue tenants don't disrupt entire neighbourhoods for people as well," Mr Holden told Sky News.
The plans were also broadly welcomed by Labour, with leader Sir Keir telling BBC Breakfast: "Actually, this is a step in the right direction. I do think that having promised it in 2019, they could have done it a bit more quickly but, look, it is right to give renters more security."
But along with banning Section 21 no-fault evictions, the reforms will also strengthen landlords' rights to throw out tenants for antisocial behaviour.
Notice periods will be reduced where renters have been "irresponsible" – for example, by breaching their tenancy agreement or causing damage to the property, according to the Government.
The Bill also seeks to make it illegal for landlords and agents to impose blanket bans on renting to benefit claimants or families with children, and applies "decent home" quality standards to the private rented sector for the first time.
Campaigners welcomed the "once-in-a-generation" announcement, but critics warned that people renting out their homes may be able to "circumnavigate" the rules by using large rent hikes to force unwanted tenants out.
Dan Wilson Craw, acting director of campaign group Generation Rent, said the legislation is a "huge opportunity" to improve the lives of tenants across England and take away "much of the stress of renting".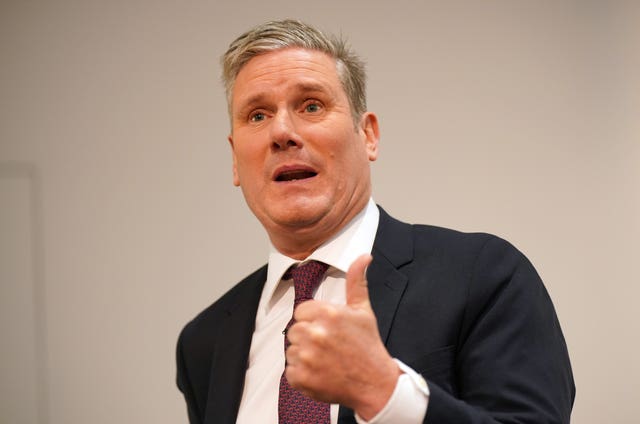 Owen Sharp, chief executive of the Dogs Trust, said the reforms are a "potential gamechanger" for responsible dog owners who rent while Michael Webb, of Battersea Dogs & Cats Home, said they could help reduce the number of animals being separated from their owners.
Martin Lewis, founder of the MoneySavingExpert.com website, said he was "pleased" at the introduction of a statutory ombudsman to compel apologies and take remedial action.
But right-wing think tank the Institute of Economic Affairs (IEA) said the rules risked backfiring, with communications director Matthew Lesh warning: "Making it harder to evict residents is only likely to make it harder to rent.
"Landlords will inevitably be more selective about who they offer properties to and charge higher rents when they cannot quickly evict bad tenants. That is likely to disproportionately hurt those who are poorer, younger and from minority communities."
Craig Mackinlay, the Conservative South Thanet MP who is also a landlord, said the no-fault eviction reforms could have "unintended consequences", including increasing homelessness in the short-term.
He told BBC Radio 4's World At One programme: "I'm worried about us upsetting a good relationship between landlord and tenant for a mischief which I think is actually pretty minor.
"I've seen some figures saying only one in five tenancies were ended through section 21 over the last couple of years.
"Landlords don't do this because they can, they do it because they might be in a relationship that has broken down.
"Now my worry is, are our local authorities ready for the rush of section 21s that might hit them and they will have a lot of homeless people to put into accommodation."
Siobhan Donnachie, spokeswoman for the London Renters Union, branded the Bill "long overdue" and said "inflation-busting rent" will mean renters will still feel insecure.
She added: "But there is nothing in this Bill banning the huge and unfair rent increases our members are facing all of the time.
"For the many families struggling with housing costs at the moment, a 20% rent hike is simply a no-fault eviction under a different name."
Ben Beadle, chief executive of the National Residential Landlords Association, suggested that the Bill lacks detail, saying: "Responsible landlords need to be confident that when Section 21 ends, where they have a legitimate reason, they will be able to repossess their properties as quickly as possible. Without this assurance, the Bill will only exacerbate the rental housing supply crisis many tenants now face."
Polly Neate, chief executive of homelessness charity Shelter, welcomed the "once-in-a-generation" opportunity but warned it must "truly deliver" change for renters when it becomes law.
The Bill delivers on a 2019 Tory manifesto pledge to scrap Section 21 no-fault evictions and follows calls from campaigners to reform the private rental sector.
It is understood it will be published in full later on Wednesday, with a second reading in several weeks.