A Tory MP has accused online giant Amazon of "facilitating" the sale of "counterfeit postage stamps" from China.
Craig Mackinlay told the Commons the stamps are "virtually perfect, except for the barcode" and that he believes the sale of such products could be in "contravention of the Forgery and Counterfeiting Act 1981".
An Amazon spokesperson said the company has removed the product in question and taken action against the third-party seller.
Speaking at Prime Minister's Questions, the South Thanet MP said: "I have a very serious matter affecting every constituency to bring to his (Oliver Dowden) attention.
"I've contacted the NCA (National Crime Agency), the National Trading Standards, and I'm afraid I've received woeful responses.
"I've now sent my concerns to the Serious Fraud Office and the economic crime unit of the City of London Police.
"Amazon are patently facilitating remittances of illegal gotten cash. And I believe this is in contravention of the Forgery and Counterfeiting Act 1981.
"Can he assist me in taking this further?"
Deputy Prime Minister Oliver Dowden, who stood in for Rishi Sunak at PMQs, replied: "I know how hard he has been campaigning on this important issue.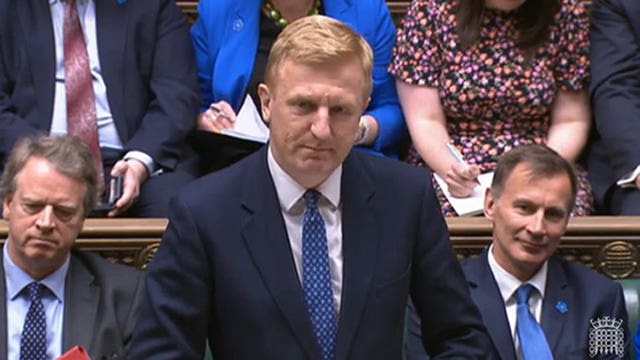 "I would say that the Digital Markets, Competition and Consumers Bill does put duties on those platforms and ultimately if fraud is being perpetrated, the police should take action."
The Digital Markets, Competition and Consumers Bill is due to receive its second reading on Wednesday afternoon.
Commenting on Mr Mackinlay's comments, an Amazon spokesperson said: "Amazon strictly prohibits counterfeit products in our stores, and we have proactive systems and teams, dedicated to protecting our store from counterfeit and other forms of abuse.
"In the rare case that a customer purchases an item that Amazon detects to be counterfeit, we proactively contact the customer and refund their purchase.
"Customers are always protected by our A-to-Z Guarantee.
"If a product doesn't arrive or isn't as advertised, customers can contact our customer support team for a full refund of their order.
"We have removed the product in question and taken action against the third-party seller."