Anglian Water customers could face an increase on their bills of £91 a year – including £12 to help pay for investment in sewerage infrastructure – the company has said.
Water companies in England have announced a £10 billion plan to reduce the number of sewage discharges into rivers and seas, while apologising for the pollution.
The industry trade body, Water UK, said the money will be paid up front by investors but then recuperated from consumers by gradually raising their bills over decades.
Speaking on BBC Radio 4's World At One programme, Anglian Water's head of public relations Regan Harris said: "The initial investment will be put forward by our shareholders and the way we're financed is that they put up that investment and Ofwat allows us to recover a proportion of that from bills.
"What we're looking at is a fairly small increase of probably a few percent a year between now and 2030."
Asked how much the rise might mean for customers, she said: "What we're probably looking at is something in the order of about £1.75 a week for bills.
"(That is) 10-12% as a total between now and 2030."
An increase of £1.75 per week would amount to £91 extra per year.
After the interview, Anglian Water clarified that only £12 of this relates to storm overflow upgrades.
Ofwat said water companies will submit their National Overflows Plan by October 2 which will include any bill increases for the period 2025-30.
The regulator will analyse the plans, giving a final announcement in December 2024, so any bill increases related to the storm overflows plan will not be felt until 2025.
A spokesperson said: "We will scrutinise the detail of the National Overflows Plan when it is submitted to Ofwat later this year, as part of companies' wider investment plans for the 2025-30 period.
"These plans will set out what companies intend to deliver in each area and a timeline for completion.
"Water companies must explain how their proposals will be funded, the proposed impact this will have on bills and their expected return to shareholders and lenders.
"It is important that companies continue to engage clearly with the public on how this proposed investment will benefit communities and improve quality of life."
There were 301,091 sewage spills in 2022 in England which amounted to 1.75 million hours of discharge, according to Environment Agency figures, though they do not include the volume of sewage.
Monitoring stations for Welsh Water, a non-profit organisation, show the company discharged sewage for 602,987 hours in 2022, while publicly owned Scottish Water recorded 14,008 spills in 2022 amounting to 113,230 hours.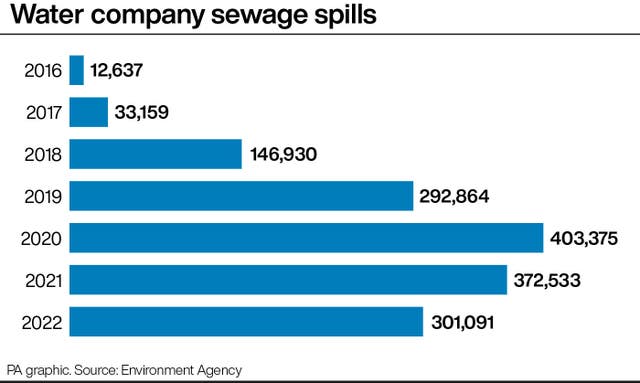 However, an investigation by the Belfast Telegraph in 2021 revealed that more than seven million tonnes of sewage was being dumped each year in Northern Ireland's rivers and seas.
Izzy Ross, campaigns manager at SAS, said: "Water companies have seemingly bared their souls and told us they're going to change. But why should we trust them?
"They've overseen decades of mismanagement of our sewerage network, all the while siphoning off tens of billions to shareholders and paying the fat cats at the top huge pay and bonuses.
"And this new plan is no different with consumers set to foot the bill, again. We won't stand for it."
The campaigners are planning to protest on Saturday at 12 bathing locations across the UK – with a surfboard made from raw sewage at the main protest by Brighton's West Pier – and are calling for an end to all sewage discharges into bathing waters by 2030.
Kate Norgrove, executive director of advocacy and campaigns at WWF, said: "Today's apology from Water UK only scratches the surface of the urgent action needed to clean up our water.
"UK nature is in crisis and sewage and agricultural pollution are choking the life out of our rivers and seas.
"Beyond apologies and the threat of higher bills for consumers, we need better monitoring of water quality and more effective regulation from UK governments, including stronger action against water companies and others who pollute our waters with apparent impunity."