Charging consumers for sewerage improvement works is "the only sustainable way" of providing funding, Water UK has said.
The trade body apologised on behalf of English water companies on Thursday for sewage discharged into rivers and coastal areas.
It said investors will front £10 billion to pay for improvements to storm overflows, aiming to cut the number of spills by up to 140,000 each year by 2030, compared with the level in 2020.
But customers will eventually repay all of that money with gradual rises in their bills, Water UK said.
Ruth Kelly, chairwoman of Water UK, told BBC Breakfast on Thursday that it could take between 50-100 years for the investment to be repaid.
A spokesman said: "Investors will put up the money, with the costs then paid back in modest increments each year through bills.
"This keeps costs down and protects customers against paying the billions needed up front.
"We won't know the precise impact on bills for some time. It is clear that huge investment is needed, and the only sustainable way of funding that is bills, but precise levels are for the regulator to determine."
All water companies in England will make improvements to their sewerage network. Some upgrades will be significant and will take several years while others will last months, Water UK said.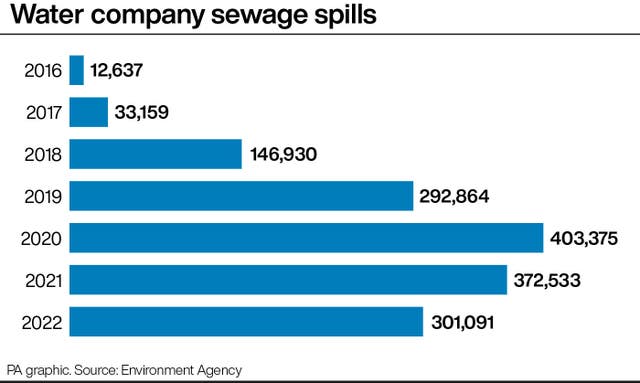 Gary Carter, national officer for the GMB union which represents water workers, said it was "outrageous" that consumers will be charged for improvements instead of shareholders.
He said: "Householders can't be expected to pay for years of water company cock-ups.
"England's waterways are in crisis and the water companies' solution is the public should pay. That's outrageous.
"Shareholders have been paid huge dividends and they should be putting the money in, not the taxpayer.
A Downing Street spokesman said the upgrades should not be "disproportionately affecting consumer bills" and that "companies must put consumers above profits".
They said: "The plans that have been set out today will of course need to go through the correct regulatory approval first to both ensure they deliver on the targets that we've set whilst not disproportionately affecting consumer bills.
"We've been clear that we think water companies must put consumers above profits and we've said that previously, and we've taken steps to help drive progress and ensure they put consumers first."
There were 301,091 sewage spills in 2022 in England, an average of 824 a day, according to Environment Agency figures, though they do not include the volume of sewage discharged.
They said analysis of Companies House records show they were paid £30.6 million in bonuses, benefits and incentives since 2020.
Referring to Ms Kelly's appearance on the BBC on Thursday, Liberal Democrat environment spokesman Tim Farron said: "These comments show the water companies still just don't get it.
"Every water company CEO should give up their bonuses until these filthy sewage dumps are brought to an end.
"It is a kick in the teeth that customers are being asked to pay more in bills to clean up the water companies' own mess, all while CEOs pocket massive bonuses.
"Environment Secretary Therese Coffey needs to make sure this happens instead of sitting on the sidelines while our rivers and beaches are ruined by sewage."
Green Party co-leader Adrian Ramsay said: "It is outrageous that we now learn that billpayers will be left paying for the mismanagement of this vital resource for the rest of our lives.
"For decades, money that should have been invested in improved infrastructure has been trousered by water company executives and shareholders.
"Rivers and coastlines up and down the country have faced years of assault at the hands of the water companies and a government that has refused to act."