David Beckham gave the King a jar of home-produced honey at an awards ceremony in London celebrating British fashion.
The King visited the 180 Studios art gallery in the Strand to present the Queen Elizabeth II Award for British Design.
At the event, hosted by the British Fashion Council (BFC), he shook hands with the former England football captain, who handed him a jar of honey.
The King, who has kept beehives at his royal estates, thanked him and joked: "We shall have to do a swap."
As the BFC's ambassadorial president, he showed the King items from the organisation's New Gen initiative, which supports emerging talent.
Speaking before the event he said he felt "excited" to meet the King, describing himself as a big admirer of the royal family and of fashion, since he was a youngster.
The King also spoke to several young designers who benefited from the BFC's scholarships and support schemes, and was shown handbags, clothing and shoes made from sustainable material.
Pausing to look at a tight crop top, he joked: "Does that stretch? I do hope so."
Mr Harrelson's 2020 documentary Kiss The Ground explored solutions to the climate crisis, while the King helped establish the SMI Sustainable Fashion Taskforce as Prince of Wales, which pioneers a sustainable future for the fashion industry.
Stopping to talk to a young designer whose high heels were made of plastic salvaged from the sea, the King said: "I have always said one man's waste is another man's property."
The inaugural Queen Elizabeth II Award for British Design was presented to Richard Quinn in February 2018 when the late Queen made her first visit to London Fashion Week.
This year's award was given to Sierra Leonean designer Foday Dumbuya, founder and creative director of fashion label Labrum London.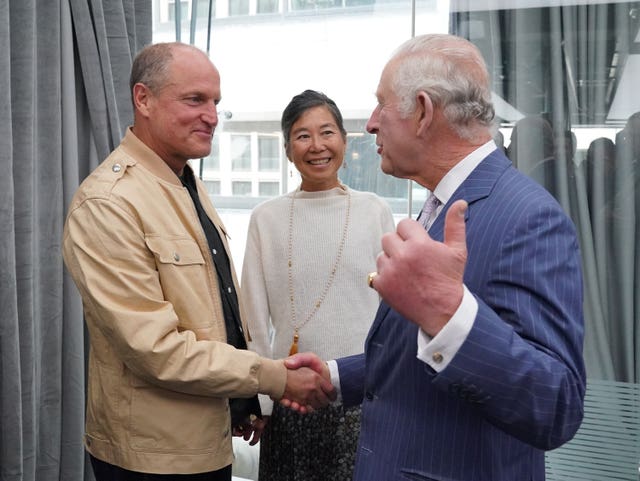 "I wanted to use this moment to congratulate all those who I know are working so hard having been through their colleges.
"I do hope you do really well and I shall be watching from a distance."
The King offered an "enormous congratulations" to Mr Dumbuya, who said he hoped to inspire young people from Sierra Leone and London to follow their dreams.
The King admired Mr Dumbuya's items in his design workshop, where he high-fived his two-year-old son, Idris, joking: "You did very well to recognise me."