The Princess of Wales has praised as inspirational a new "anxiety toolkit" developed by a leading mental health charity after collaborating with schoolchildren.
Kate visited the Anna Freud Centre to learn about the project, launched on Thursday by the research and development organisation, and meet some of the children who helped develop the initiative.
She wore a green Suzannah tea dress after the Mental Health Foundation encouraged people to dress in clothes of the same colour on Thursday to raise awareness about mental wellbeing, as the date fell within Mental Health Awareness Week.
The princess then sat down with pupils from St Richard's Catholic College, Bexhill on Sea, and was shown a range of activity cards that provide practical advice to youngsters who may be affected by issues like anxiety.
The children helped to develop Anna Freud's "let's talk about anxiety" new animation and teacher toolkit, which typifies the charity's vision to empower young people with the knowledge, confidence and skills to manage their mental wellbeing.
Kate also joined a series of round table discussions with health professionals and academics from Anna Freud, which Kate supports as patron, and those from the wider community with experience of mental health.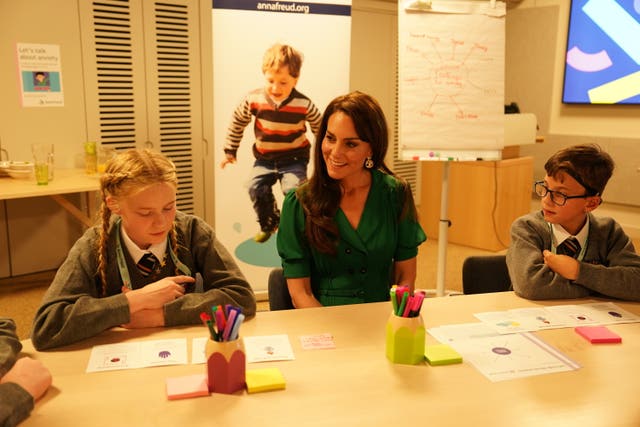 He said after the visit: "I found out recently, it seems 2% of people who end their life have had no contact with mental health services in the 12 months before they died.
"I think that they've probably had a haircut or beauty treatment or gone to the pub – it's about providing as many opportunities as possible for these conversations and interventions to happen."
Kate later filmed a short video which was posted on the Waleses' Instagram channel, in which she stressed the importance of talking about both good and difficult emotions "because we all have them".
The princess, who took a copy of the toolkit home with her, said: "I've had the most inspiring morning with the Anna Freud Centre discussing all things mental health.
"It is so important that we all talk about our feelings and emotions. the good ones and the more difficult ones too, because we all have them."
The princess said the toolkit aims to help young people "understand, normalise and manage their feelings around anxiety".
She described it as a "fantastic resource" and "one which I'm sure we could all use to help support our mental health".