Nurses in Northern Ireland have staged a demonstration over the "deteriorating" health service in the region.
Members of the Royal College of Nursing (RCN) gathered at the front gates of Stormont before walking the mile to Parliament Buildings holding placards.
The Department of Health said last week that officials were having to make decisions on spending reductions with "great regret" following the Budget which was set by Secretary of State Chris Heaton-Harris in the absence of locally elected ministers.
The expected cuts include reducing the number of nursing student places in Northern Ireland to 1,025.
RCN Northern Ireland director Rita Devlin said the current state of the health service was the worst she had seen in her career.
She said there were almost 3,000 unfilled nursing posts in the health service and a similar number in the independent sector.
"We don't have enough nurses in Northern Ireland to look after our patients," she said.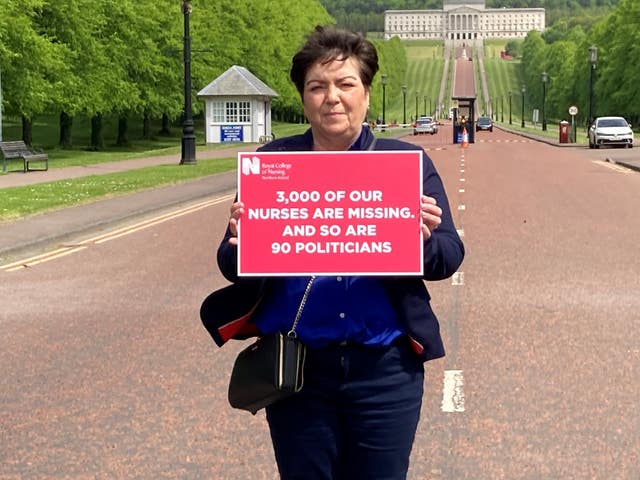 "It is no wonder we have issues with recruitment and retention to our health service."
Ms Devlin was adamant that money could be found and said there was instead a lack of political will.
She did not rule out further strike action by nurses.
"We're not going to sit by and let our nurses in Northern Ireland be the worst paid in the UK, we're not going to sit by and let our health service deteriorate to the point where people have no choice but to spend their savings and go private, we're not going to sit back and let this country and its health service be destroyed.
"I think this is all politics, I think we're being led to believe that there is no money. There is always money, there is always money when governments need to find money, there's always money for weapons, there is always money for failed PPE.
"We don't believe there is no money, we believe this is a political stance, holding the people of Northern Ireland to hostage and we don't believe the Government.
"The money is there, they are just choosing not to give it to the health service in Northern Ireland."