The Queen has drawn a cartoon version of her own coronation crown as she carried out her first solo engagement since her historic crowning.
Camilla joined pupils for a step-by-step draw-along session with illustrator Rob Biddulph at Shirehampton Primary School in Bristol to launch an initiative to create 50 coronation libraries to mark the King and Queen's coronation.
The Queen laughed as Biddulph, known for his Draw With Rob lockdown videos, said: "We do need to add a bottom bit – a furry… I don't know what it's called. Right at the bottom, I guess that's there for comfort reasons."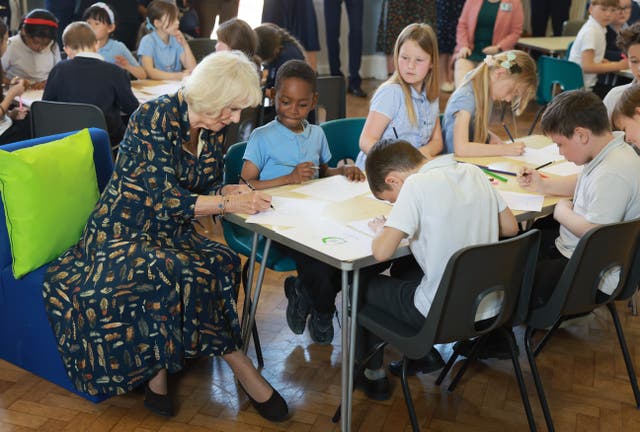 "You feel free to decorate yours however you want," he told the pupils and the royal visitor.
Nine-year-old Ireoluwa Adegbuyi, who was sitting next to the Queen, said: "She said hers was a little bit wobbly and she said mine was quite good."
Biddulph drew his version on a flip chart as he gave bitesize instructions to the year four children.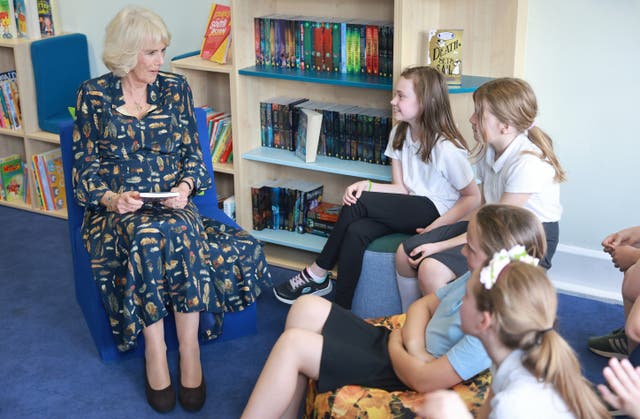 The glittering crown, which was made for the King's great-grandmother, was altered to included some of Elizabeth II's diamonds.
Biddulph told the pupils: "I thought today, because we have a very special visitor, I would show you very quickly how to draw Queen Mary's Crown."
Looking at Camilla, he added: "Your crown."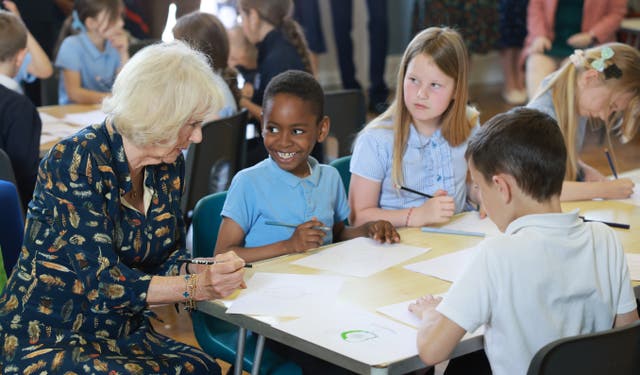 Camilla said as she drew: "A circle – excellent… there we are."
At one point, she glanced over to see how the children were getting on, chuckling as Biddulph said: "There is no right or wrong answer with drawing. If you make a mistake just keep on drawing. We're not going to screw it up and start again."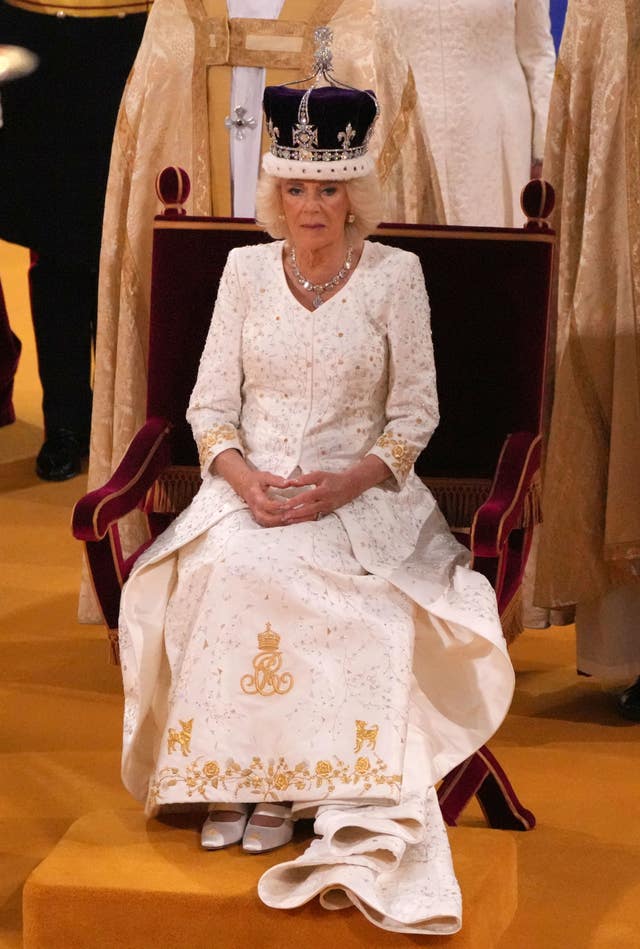 "Wobbly is good. That's where you get to see its character. She had a bit of inside knowledge."
Camilla was also joined by children's authors Cressida Cowell, Malorie Blackman, Francesca Simon and Jasbinder Bilan at the primary school to unveil the first of 50 coronation libraries being created across the UK as part of the National Literacy Trust scheme.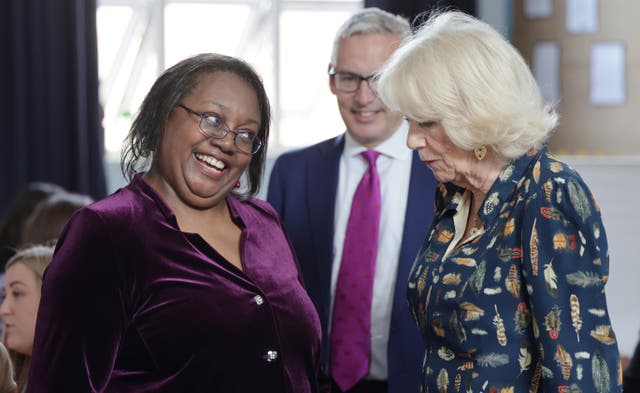 "Horrid Henry is still going, up to his usual mischief," Camilla remarked.
Simon said of her 2004 book: "It doesn't end well. It ends badly for you."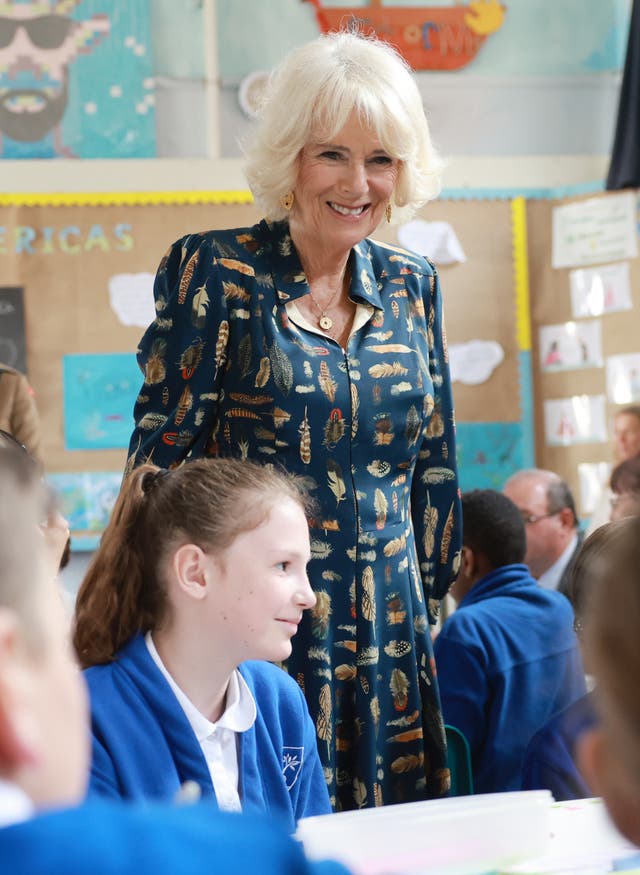 Joining a group of nine and 10-year-olds in the library, Camilla listened to the story, grinned and said "Oops" as the tale finished with a "tidal wave of mud and straw" splatting the queen.
Simon said, holding up the final illustration: "And there's her majesty, in her crown," as Camilla quipped: "Covered in mud."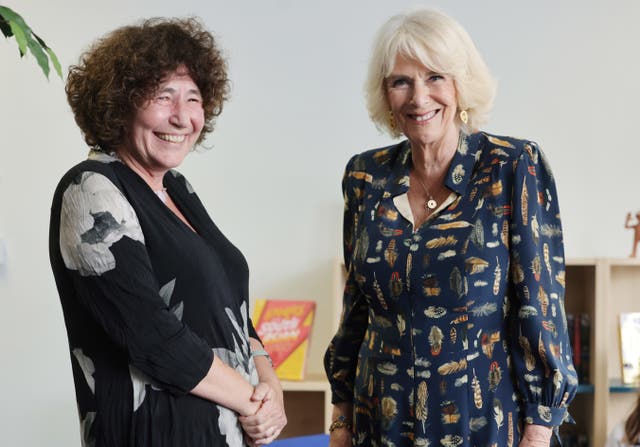 Simon said afterwards: "She said she read it last night. I did tell her. I knew she would find it very funny."
Camilla asked the youngsters listening: "Have you read a lot of Horrid Henry before? They're quite good aren't they? They keep you laughing."
The Queen, patron of the National Literacy Trust and a passionate advocate of reading and literacy, unveiled a tiny plaque declaring the library had been opened by "Her Majesty Queen Camilla".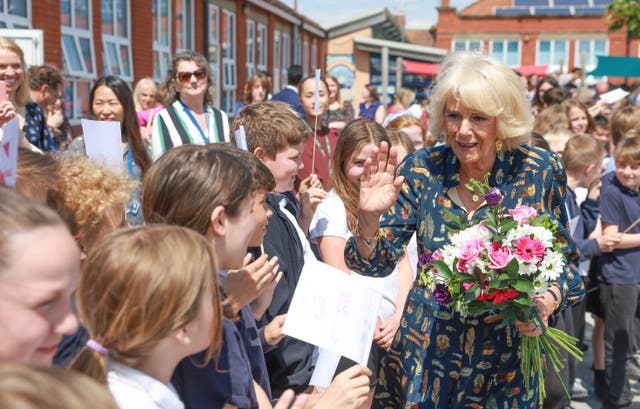 The 50 libraries will be established in communities with low levels of literacy where children are least likely to have books at home and in areas being hit hardest by the cost-of-living crisis.
Each reading space will be refurbished, restocked and a member of staff will be trained to manage both the library and a range of reading activities for the whole school.
The library will also receive a set of 23 books, chosen by children from across the country, which will bear a commemorative bookplate featuring the coronation emblem.