Rishi Sunak and Japanese counterpart Fumio Kishida have signed a new agreement to build closer defence, security and cyber ties amid growing Chinese aggression.
Becoming the first British Prime Minister to visit Hiroshima, Mr Sunak joined his ally for dinner at his favourite restaurant on Thursday.
Mr Sunak committed to deploying a naval fleet in the Indo-Pacific, partnering on crucial semiconductors to reduce reliance on Beijing and doubling UK troops in joint exercises.
He first hosted a reception for Japanese businesses in Tokyo as he welcomed nearly £18 billion of new investment in the UK.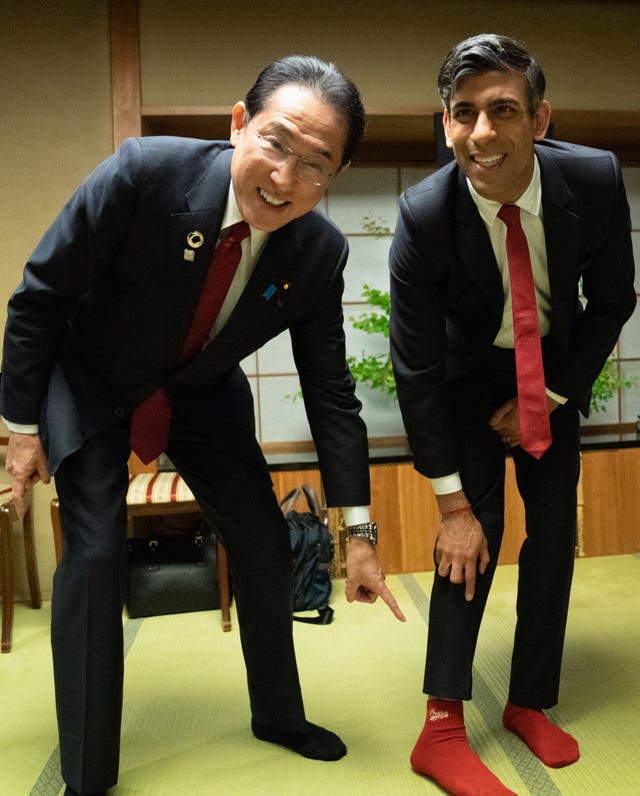 They will also discuss the threat that Taiwan is under from China, both from military aggression and economic coercion such as blockades.
After signing the "Hiroshima Accord", Mr Sunak and Mr Kishida sat down for a dinner of seasonal sashimi and conger eel rice at the Tosho restaurant.
The Prime Minister told his ally: "I genuinely believe that the relationship between our two countries has never been stronger than it is today.
"You and I have now signed the Hiroshima Accord to strengthen and deepen our partnership even further."
Downing Street said the pair discussed the possibility of further cooperation on military training and exercises as they agreed on the "systemic challenge China poses to our collective economic security and regional stability".
In a well-considered piece of diplomatic dressing, Mr Sunak wore the socks of Mr Kishida's baseball team, the Hiroshima Toyo Carp.
Having complied with Japanese etiquette by removing his shoes, Mr Sunak gestured downwards and said: "I hope your baseball team has had a better season than my football team, who have had a very bad season."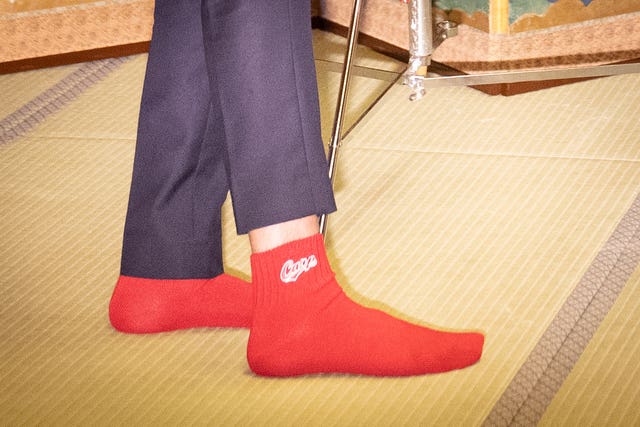 On Friday, Mr Sunak will visit the A-bomb dome ruin to reflect on the nuclear devastation at the end of the Second World War before the G7 summit kicks off.
Under the agreement with Japan, Mr Sunak will commit to deploy the Navy's carrier Strike Group to the Indo-Pacific in 2025.
Including an aircraft carrier and fighter jets, the fleet will work with the Japanese military and other allies to defend peace and stability in the region.
A fourth UK-Japan "vigilant isles" military exercise taking place in Japan later this year is being billed as the biggest yet and will include around 170 UK service personnel.
The UK and Japan have committed to consulting each other on key regional and global security issues and to consider measures in response.
They will also launch the semiconductors partnership to make use of British expertise and Japan's materials to bolster supply chains amid concerns over Chinese dominance.