A demonstration took place outside Downing Street on Friday following a spate of recent executions in Iran.
It took place on the same day authorities in Iran executed three men sentenced to death in connection with the nationwide anti-government protests last year.
Three roses, one for each victim, were placed on a wall opposite Downing Street while about 20 demonstrators held placards bearing their faces.
The rally, organised by campaign group the National Council of Resistance of Iran (NCRI), brought together several organisations which oppose the Iranian regime.
Speaking outside Downing Street, Association of Women and Youth Against Fundamentalism volunteer Rana Rahmanfard, 24, said: "When I heard they had been executed it felt like the breath had been taken from my chest.
"All I can think of is their families and the growing number of mothers and fathers losing children in Iran who are desperate for justice."
Ms Rahmanfard, a student from Barnet, north-west London, called on the British Government to "cut ties" with the Iranian regime.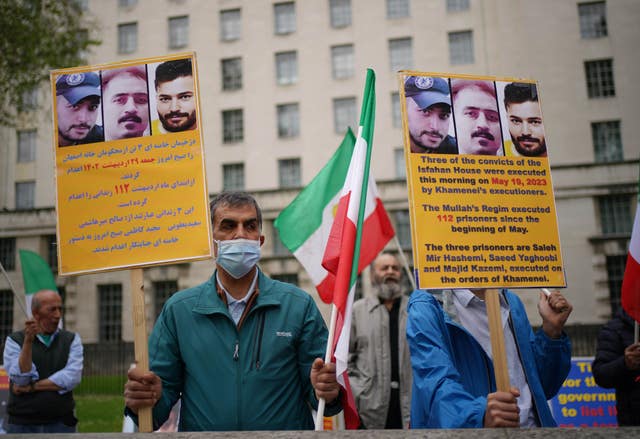 Dr Zabihi, 43, said: "Today we were asking for strong condemnation from the British and international community of this regime.
"The IRGC must be put on UK and EU terrorist lists. It has already been recognised by the US as a terrorist organisation.
"We are also requesting for the Iranian embassy in London to be shut down and for those working in the embassy to be expelled.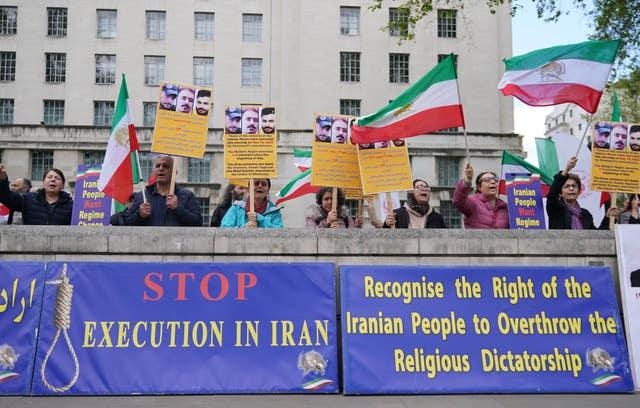 The legitimacy of the three men's sentences has been widely questioned, with the US state department calling the proceedings "sham trials" on Thursday.
Human rights charity Amnesty International said the men were "fast-tracked through Iran's judicial system" without due process being observed.
Friday's hangings bring the total number of Iranians executed in connection with the protests to seven.
The protests swept across the Islamic Republic following the death in custody of Mahsa Amini, a 22-year-old Kurdish woman who was detained by morality police in Tehran in September for allegedly wearing her hijab "improperly".
In a statement on social media, NCRI president Maryam Rajavi said: "I urge the United Nations, the European Union, and member states to strongly condemn this alarming wave of executions and swiftly implement measures that compel the mullahs' regime to halt its barbaric cycle of arrests, torture, and killings."