A man has been jailed for at least 15 years after he admitted murdering his 84-year-old grandmother by repeatedly punching and stamping on her, causing her to die from her injuries six days later.
Scott McCulloch, 26, from Forres in Moray, pleaded guilty to one charge of murder when he appeared by video link at the High Court in Edinburgh on Friday.
He was handed a life sentence and was told he must serve at least 15 years before he is eligible for parole.
In a narrative, the court heard McCulloch lived with his grandmother Patricia Bitters at her home in the town's Oystercatcher Close.
McCulloch had been drinking with friends on Sunday August 28 last year and returned home just before 10pm.
He admitted repeatedly punching and stamping on Mrs Bitters, who was just 4ft 9in and weighed 49kg.
They found McCulloch standing on the pavement saying: "I've killed my granny, I've killed my granny. I didn't mean it."
Mrs Bitters was found lying on her side on the floor, pressed against a cabinet with blood coming from her mouth.
McCulloch had covered his face and said: "I can't look."
Neighbour Wendy Harrower asked Mrs Bitters what had happened and she replied that her grandson had assaulted her.
When Mrs Harrower asked Mrs Bitters why, the pensioner said: "I don't know, he just lost it."
Mrs Bitters also told Mrs Harrower: "Don't leave me, I don't want to die alone. Please don't leave me when I die."
The court heard McCulloch had then asked to phone his mother, Melanie Hendry.
He was crying and slurred his words as he told her he had done "a murder" on his "granny".
Mrs Hendry asked McCulloch what he was talking about because Mrs Bitters was "in her bed", the court heard.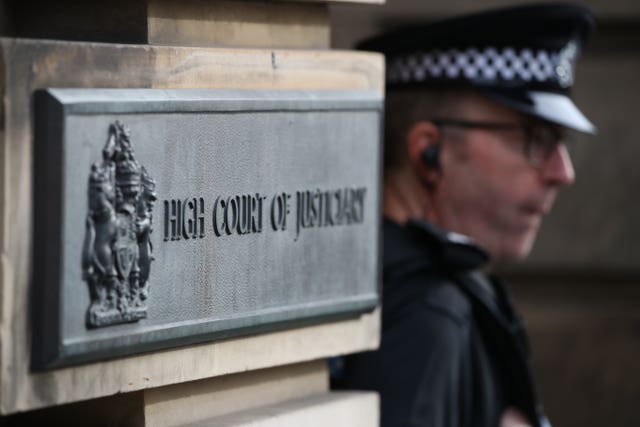 Mrs Bitters was taken to hospital where a CT scan showed significant haematoma and haemorrhage in her brain, as well as bruising to her sternum.
The court heard her pattern of injuries were consistent with being stamped on numerous times.
Following his arrest, the court heard McCulloch wrote a letter to his mother from prison, saying he was sorry about what happened and that he hoped his grandmother would survive, before asking Mrs Hendry if she could send him money for "food and juice".
Mrs Bitters died on Saturday September 3 and a post-mortem examination showed she had a subarachnoid haemorrhage, brain hypoxia, and a hardening of the arteries over many years.
Four days later, McCulloch was charged with murder.
Defending, Donald Findlay KC said McCulloch was "profoundly sorry" for his actions and that he "struggled to come to terms with them".
He told the court that while they had their differences, there was no "simmering malice" between McCulloch and his grandmother.
Judge Lord Beckett told McCulloch his actions had "devastated" Mrs Bitters's family and that he had taken advantage of her vulnerability.
"She had given you a home and was entitled to expect your protection and support in return," he told McCulloch.
Lord Beckett also told McCulloch that being "under the influence of alcohol" was not an excuse for the crime.
But he reduced the time McCulloch must serve before being eligible for parole from 17 years to 15, after taking into account his remorse and his early guilty plea.
McCulloch was visibly shaking as he was sentenced.