Rishi Sunak has expressed sadness at witnessing his football team Southampton's relegation but said he hopes they will "bounce back" swiftly.
Bottom club Southampton will be relegated from the Premier League after losing to Fulham at the weekend.
Speaking to BBC News in Hiroshima, where he is attending the G7 summit, the Prime Minister said: "It was a sad moment but I was pleased I could be there, actually, and be there with the fans and my family were there as well with their season tickets, quite near where I was sitting.
"It was nice to be back home to my football team I have supported since I was a kid and, hopefully, we can bounce straight back up as Burnley and Sheffield United have in reasonably short order."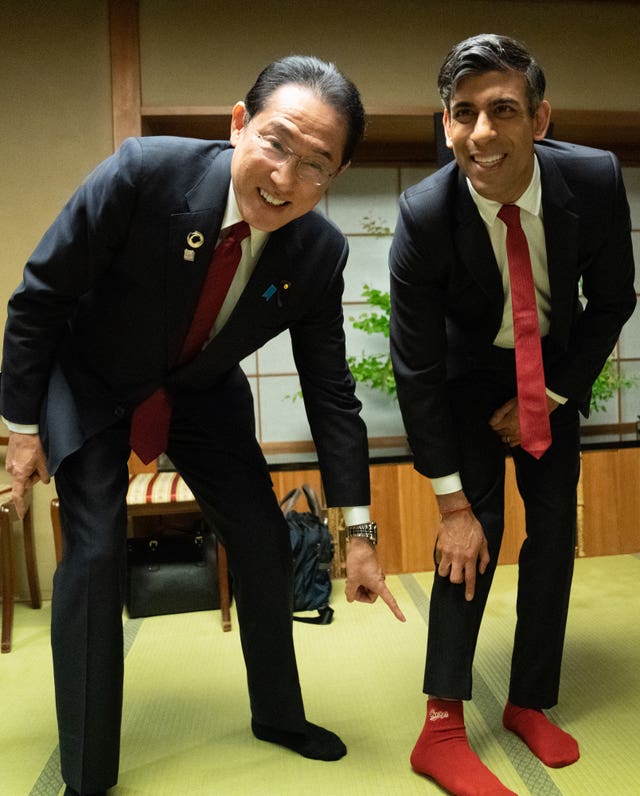 The leaders sat down for a dinner of seasonal sashimi and conger eel rice at the Tosho restaurant in Hiroshima.
In a well-considered piece of diplomatic dressing, Mr Sunak wore the socks of Mr Kishida's baseball team, the Hiroshima Toyo Carp.
Having complied with Japanese etiquette by removing his shoes, Mr Sunak gestured downwards and said: "I hope your baseball team has had a better season than my football team, who have had a very bad season."