Tesco's chairman of eight years will step down at the company's shareholder meeting next month.
The supermarket said it made "no findings of wrongdoing" against John Allan, whose tenure was coming to an end anyway.
But it said allegations over his personal conduct "risk becoming a distraction".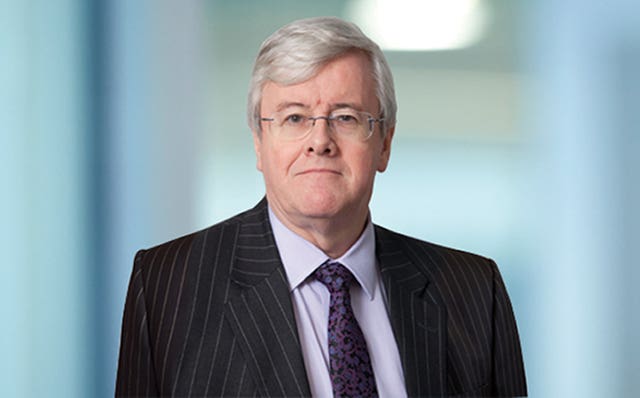 Last week, The Guardian said it had been approached by four women claiming Mr Allan's behaviour had been inappropriate or unprofessional.
The newspaper said that Mr Allan allegedly touched a senior staff member's bottom at last year's shareholder meeting.
He was also accused of touching the bottom of a member of staff at the Confederation of British Industry (CBI) in May 2019.
Mr Allan, 74, was previously president of the CBI, which has been rocked by multiple sexual misconduct allegations in recent months.
The CBI's director general and staff members at the trade body have been fired after more than a dozen women came forward alleging they had been the victims of bad behaviour.
Mr Allan denied three of the allegations against him and apologised for the fourth.
One claim was to do with last year's annual general meeting (AGM).
Tesco, which investigated the allegation, said on Friday: "This review has not identified any evidence or complaints in relation to John at the Tesco 2022 AGM or at all in his tenure as Tesco chair."
Board member Byron Grote said: "John has made a valuable contribution to Tesco during his eight years as chair.
"He has successfully led the board through the turnaround and Covid whilst helping to rebuild the business.
"While we have received no complaints about John's conduct and made no findings of wrongdoing, these allegations risk becoming a distraction to Tesco."
Mr Grote will serve as interim chairman until someone can be found to do the job full time.
In a statement issued separately to Tesco, Mr Allan said: "It is with regret that I am having to prematurely stand down from my position as chair of Tesco Plc following the anonymous and unsubstantiated allegations made against me, as reported by The Guardian.
"These allegations are utterly baseless, as the internal procedures undertaken by Tesco prove.
"Tesco undertook an 'extensive internal review' which included inviting Tesco employees and ex-employees to come forward on an anonymous basis if they had concerns about my conduct."
He added: "There is no evidence of any wrongdoing at that time or at any stage of my chairmanship at Tesco, and I remain determined to prove my innocence."