Volodymyr Zelensky has arrived in Japan to attend the G7 summit with Rishi Sunak and other allies after the US paved the way for Ukraine to receive F-16 fighter jets.
The Ukrainian president said "peace will become closer" after arriving for the conference in Hiroshima on Saturday.
Mr Zelensky tweeted: "Japan. G7. Important meetings with partners and friends of Ukraine. Security and enhanced cooperation for our victory. Peace will become closer today."
Mr Biden, who is attending the G7 with other members France, Italy, Germany, Japan and Canada, as well as the EU, also announced training for Ukrainian pilots.
The Prime Minister welcomed the decision from the summit, having pressed allies to provide the Ukrainian president with the jets he has been calling for.
Mr Sunak tweeted: "Welcome announcement that the US will approve the training of Ukrainian pilots on F-16 fighter jets.
"The UK will work together with the USA and the Netherlands, Belgium and Denmark to get Ukraine the combat air capability it needs.
"We stand united."
The RAF does not have any US-manufactured F-16s.
Washington must legally approve their export.
Mr Zelensky is expected to take part in meetings with the G7 on Sunday.
PA news agency understands it was the Prime Minister who suggested to the Ukrainian war leader that he should attend the Asian summit in person.
Mr Sunak is understood to have pitched the idea during a phone call about a month ago before the possibility was then broached with the Japanese hosts.
Mr Zelensky's presence at the meeting will potentially bring him into contact with India's Narendra Modi and Brazil's Luiz Inacio Lula da Silva, who have not supported Ukraine like their western allies.
Neither are G7 members, but India is being represented at the summit because it is the current G20 chair, while Brazil has been invited as a guest.
Mr Zelensky's attendance at the G7, the group that Russia was expelled from over its 2014 annexation of Crimea, is another show of solidarity from western allies.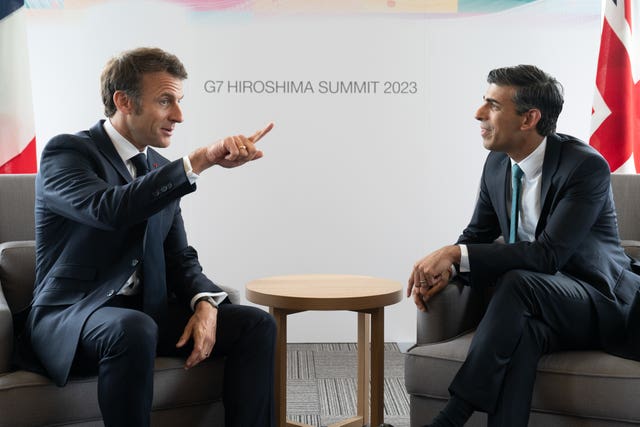 He will also have the chance to pressure and charm India and Brazil into supporting Ukraine.
On Saturday, Mr Sunak met with French President Emmanuel Macron for discussions at the summit and had a short "brush-by" meeting with German chancellor Olaf Scholz.
They discussed providing military aid and "longer-term security assistance" to Ukraine as well as tackling small boat crossings of the Channel, Downing Street said.
Meanwhile, the G7 announced it would establish a new team to root out and counter Russia and China's use of economic coercion to influence nations' decisions.