The Princess of Wales was told she was the most appealing thing on the menu when she interrupted Chelsea Pensioners sat down to lunch.
Kate was delighted to see the ex-servicemen and women when she visited Chelsea Flower Show and joined school children touring some of the attractions, including a walled kitchen garden designed by Mark Gregory.
She also revealed "Louis is growing broad beans at school", before she showed off her talent for drawing by sketching flowers and plants for the children in lieu of a signature.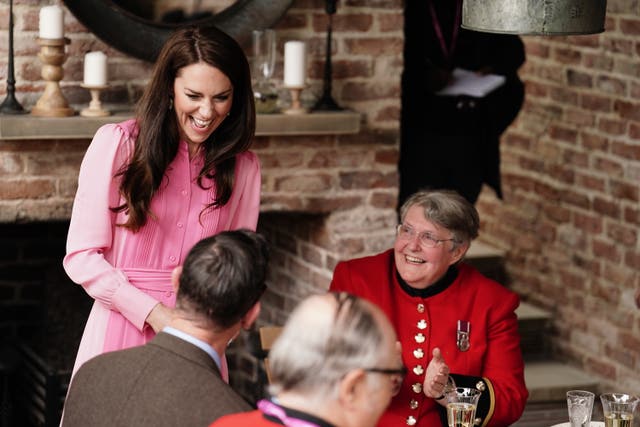 "What's on the menu?" Kate asked as the pensioners tucked into chargrilled peas with herbs.
Harry Puttick, who served with the Royal Welsh Fusiliers for 30 years, replied gallantly, "The peas are forgettable, you are not".
With the cook nearby, he joked afterwards: "I'd better say the peas were wonderful, but it was fantastic to meet the future Queen."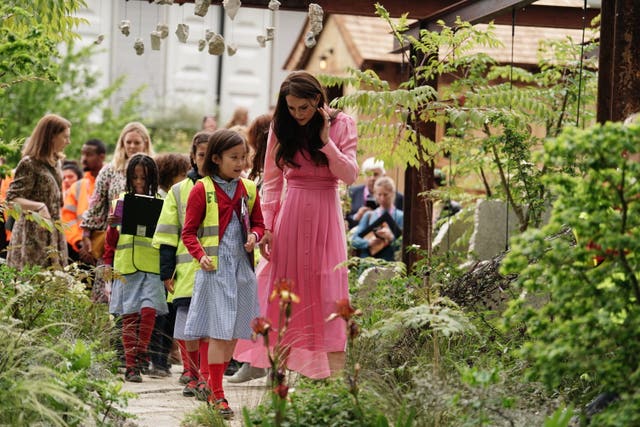 Asked what her favourite colour was, she encouraged the children to guess – grinning as they correctly answered "green".
Meanwhile, one of the pupils asked her about being a member of the royal family.
She replied: "You have to work hard, but you know the best thing about it is meeting kiddies like you."
Pressed on what the royal family does, she said: "They help support all the different people in the country, showcase all the amazing work being done and look after everyone."
One curious child asked if she made the law, but she told her: "The Prime Minister makes the laws."
In 2019, Kate co-designed a Chelsea Flower Show garden to encourage the public to get back in touch with nature and conversations she had at the time with the RHS, the show's organiser, inspired the institution to involve children in this year's event.
Youngsters from 10 schools, taking part in the RHS Campaign for School Gardening, were invited to a picnic and were joined by the princess when she first arrived before the pupils later toured some of the show gardens with Kate.
Kate discussed vegetables and herbs with the children as she sat on a picnic mat, and told them: "There's a plant that smells like chocolate. I remember my granny showing me that when I was little. It has very dark leaves and you rub it and it smells like chocolate."
Told the pupils were growing sunflowers at school, she said: "They get so big, don't they?" revealing: "Louis is growing broad beans at school. You put them in a cup and you can see the roots growing. They get big quickly like sunflowers."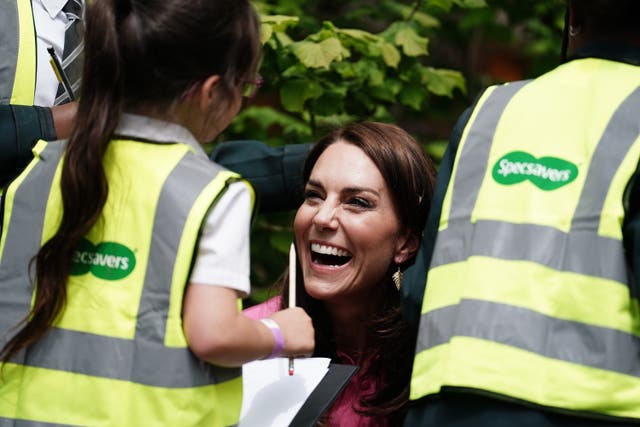 Kate ended her visit in the Royal Entomological Garden where children learned about insects and she showed them a display of beetles and thanked the pupils when some pulled pollen from her hair.
Again the future Queen answered questions, including one from Solyana Dane, aged eight, from Glenbrook Primary in Clapham Park, south London.
The schoolgirl said: "I asked her if she loved gardens and she said they were her 'calm place'."