Climate change protesters have tried to storm the stage at oil giant Shell's annual shareholder meeting in London.
In a tense moment in the meeting, which had already been delayed for nearly an hour, security stepped in to prevent a protester reaching chairman Sir Andrew Mackenzie and other board members on stage.
Dozens of protesters were escorted out by members of the security team at London's Excel conference centre.
"Obviously that last incident went a stage further than we experienced in the first part of today," Sir Andrew said after protesters had been escorted out. He added that people would be removed if they tried to get onto the stage again.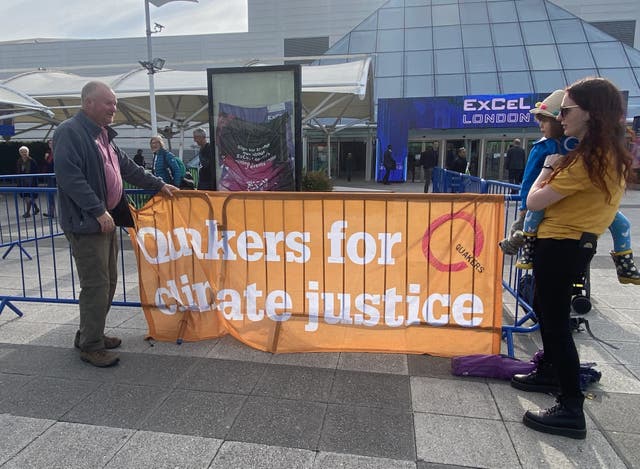 Meanwhile, other shareholders grew increasingly frustrated, shouting: "Shut up" and "get a job".
It happened around 50 minutes into Shell's annual general meeting (AGM) on Tuesday morning. Protesters had consistently got up to chant songs and slogans against the major producer of polluting oil and gas.
"Shut down Shell," protesters repeatedly chanted on Tuesday, interrupting Sir Andrew and other board members as they were speaking to other shareholders in the room.
Security repeatedly escorted protesters out one at the time, however one protester was replaced by another.
In the confusion, Sir Andrew also mistakenly asked security to remove a non-protesting shareholder who had got up to ask for the meeting to push ahead.
"Are you asking us to start the meeting? I apologise," he said, to laughter from the room.
Early in the meeting, a group of protesters sang: "Go to hell Shell and don't you come back no more, no more, no more, no more" to the tune of the Ray Charles song Hit the Road Jack.
He added: "I refuse to accept your hell on earth. Board members, directors and shareholders, I'm here to demand that you shut down Shell."
He also said: "The sea levels are rising, and so are the people."
The proceedings appeared to finally start after a little over an hour. A protester was escorted out after 72 minutes, after which Sir Andrew was able to start his speech to shareholders.