Grocery price inflation has fallen for the second month in a row – but is still adding an extra £833 to the average consumer's annual bill, according to latest figures.
Prices over the four weeks to May 14 were 17.2% higher than a year ago, down from April's 17.3%, Kantar said.
In the dairy aisle, the average cost of four pints of milk has come down by 8p since last month, but is still 30p higher than this time last year at £1.60.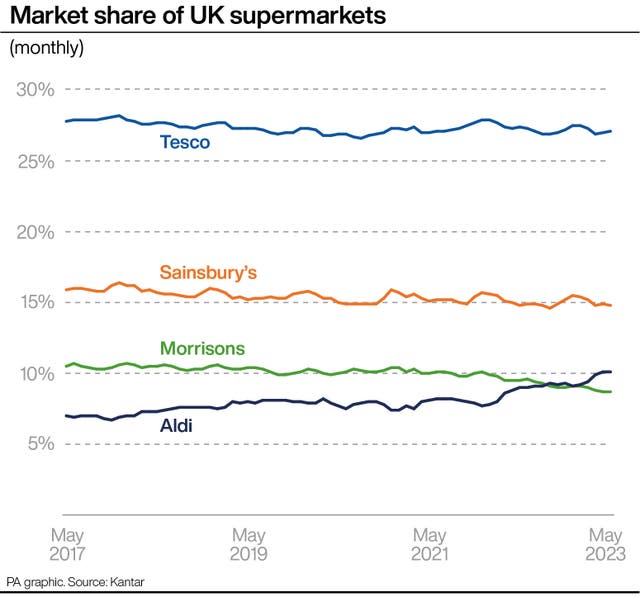 "This could add an extra £833 to the average household's annual grocery bill if consumers don't shop in different ways."
Shoppers skirting the higher prices sent sales of supermarket own-label items up by 15.2% this month, almost double the 8.3% rise seen for branded products.
Despite the price pressures, consumers spent an extra £218 million on groceries during the week of the coronation, with sales of wine and quiche soaring.
Sales of sparkling and still wine climbed by 129% and 33% respectively, driven by demand rather than price rises as wine inflation sits at 1%.
Mr McKevitt said: "Lots of people seem to have got into the spirit of the royal occasion, grabbing their chance to have a go at the official Coronation Quiche recipe.
"Sales of ingredients like chilled pastry surged by 89%, while fresh cream sales jumped by 80% and frozen broad beans by 57%.
"We'll have to wait and see whether it becomes as much loved as its 1953 counterpart Coronation Chicken and cements its place on the British picnic and garden party menu."
Waitrose in particular benefited from the coronation with sales up by 4.8%, the highest rate of growth the retailer has achieved since April 2021.
Aldi's 24% sales increase made it the fastest growing grocer this month, while Lidl's sales increased by 23.2%.