Climate change protesters have again clashed with drivers as they staged marches on three bridges in central London.
Forty-five Just Stop Oil (JSO) activists blocked the roads on Blackfriars, London and Tower bridges on Tuesday morning by walking slowly in the road.
One man was handcuffed by police after he appeared to push two JSO supporters in a bid to clear the road.
A motorcyclist also tried to drive through the group of demonstrators, while there were several clashes at the other protest sites, with members of the public snatching banners, according to JSO.
Later the group staged further marches in Bayswater, Islington and West Brompton, with a further incident that saw a van collide with bus stop as the driver tried to get round protesters, JSO said.
The group posted footage of the Blackfriars Bridge confrontation on Twitter, saying: "This is an impossible situation.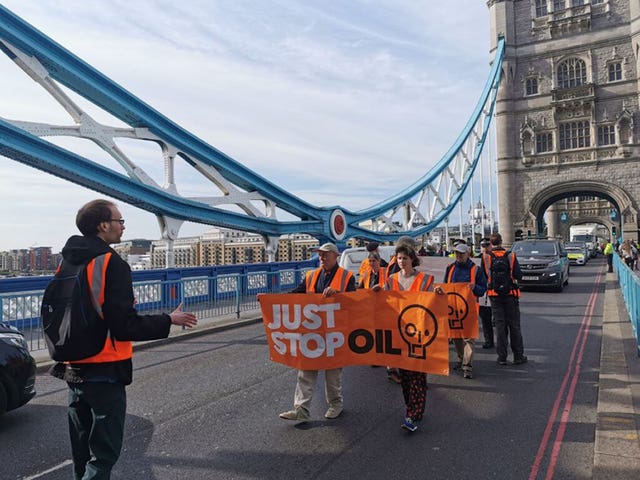 "Do we disrupt other ordinary people, like this man, arrested for lashing out today, or just sit back and watch everything burn?"
Tuesday's clashes came after footage of another confrontation in the City of London was posted on social media on Friday.
A man approached JSO protesters as they marched slowly in front of traffic on Mansell Street, near the Tower of London, before snatching their banners and pushing a woman to the ground.
He also grabbed a phone from one of the campaigners and threw it away, before trying to push other activists out of the road.
Police now have powers under the Public Order Act to force protesters out of the road and onto the pavement.
These orders were used at all three bridges on Tuesday by 8.55am, JSO said.
The Metropolitan Police urged the public not to intervene in protest action.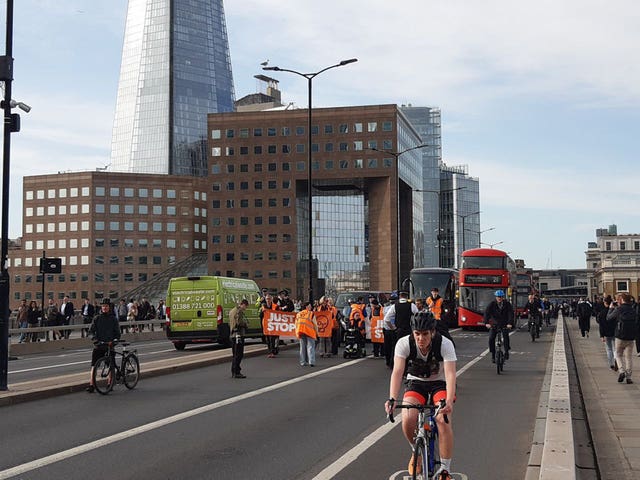 "There have been no arrests and police are investigating the matter.
"We completely understand the frustration and anger of London's communities when protesters walk slowly in the roads.
"We urge people not to intervene and to let police deal with the situation who, if not already there, will arrive promptly."