Tensions reached breaking point in Cardiff on Monday night as riots broke out after police were called to the scene of a crash in Ely.
Officers faced what they called a "large scale disorder" after receiving reports of the collision on Snowden Rd around 6pm.
At least two cars were set on fire as trouble flared for hours, involving scores of youths, with some covering their faces with masks.
A fire was burning and a helicopter could be heard hovering overhead as rioters threw missiles, including fireworks, at the attended officers.
Scenes being livestreamed on YouTube showed young people throwing fireworks and other missiles at a line of police officers with riot shields who were blocking one end of the street.
Shortly before midnight a car was set on fire and burned fiercely, while a second vehicle was overturned and set ablaze.
A member of the public was attacked due to rioters thinking they were an undercover officer, according to one of the senior officers at the scene.
Police, including mounted officers on horseback, were seen outside Ely police station in the early hours of Tuesday after suggestions it could be targeted.
Shortly before 3am, rioters moved down Highmead Road in Ely, followed by police who were trying to disperse them.
The rioters continued to throw missiles and set cars alight.
John Urquhart, the general secretary of the UK Harmony Party, lives in Ely and witnessed the incident escalate from the start of the evening.
He said: "The key thing right at the start was they did not communicate with the crowd, there was no attempt to communicate with the crowd and they showed nothing but disdain for the community and acted like we didn't deserve to know what happened on our own doorstep.
"There was nobody going through the crowd crucially, I think the police really needed people to be out talking to the community and putting their minds at ease."
Mr Urquhart, who has lived in the area for the last few years, said the situation started to escalate at around 8pm.
"The vast majority of people who were stood in that street were stood there because they wanted to know what would happen next, there were a very small number of people actually doing any sort of violence," he said.
He said he is very "counter-violence" and was offering first aid to people during the evening.
"There was definitely a small group doing things, but the vast majority of other people were just watching and having that normal comradery in the street that you have when something is happening in your street and you have no control over it."
He said the community in Ely is tight-knit.
At 8.21pm, South Wales Police tweeted: "There is now a large number of officers working to manage the collision, but also to de-escalate ongoing disorder at the scene.
"We urge anyone involved to leave the scene immediately and ask local residents to stay away while the matter is brought to a safe conclusion."
At 1.10am police said they were continuing to monitor and respond to "disorder in Ely", adding: "A number of vehicles have been set alight. Arrests are being made. A large police presence remains in the area."
Jane Palmer, the owner of a burnt out Ford Focus on Highmead Road, said she and her family watched from their window as rioters set fire to her car.
Ms Palmer said: "I'm disabled so now I'm trapped without my car.
"Why are they doing this? It's just silly now."
The family attempted to stop the fire using water from their garden hose.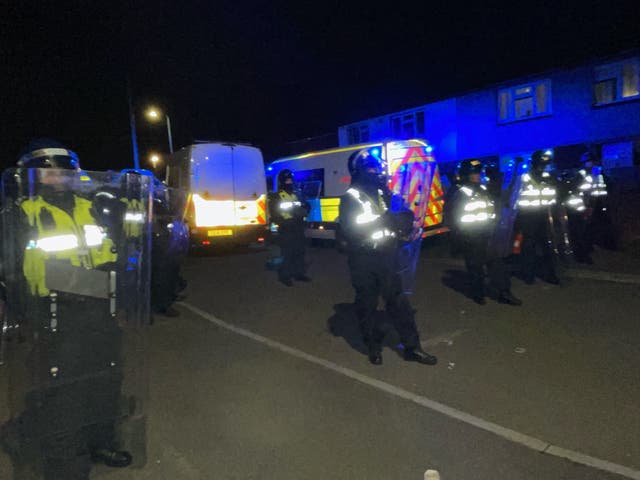 "Although we've been afflicted by this riot, I still understand it. When people have enough, this is what happens."
Rubbish and wheelie bins were set alight as well as cars by rioters as they continued to be moved through the streets by armoured police.
Rioters gradually moved down Highmead Road in Ely, Cardiff, followed by police who were trying to disperse them.
The rioters continued to throw missiles and set cars alight.
One resident of Highmead Road, who did not want to be named, told the PA news agency: "Enough is enough now. This has gone beyond.
"When people are making fun of what's happening on social media it's crossed a line.
"This is our neighbourhood and those doing this are just kids. It needs to stop."