Suella Braverman will not face an investigation for asking officials whether she could have a private speed awareness course – but Rishi Sunak criticised her handling of the situation.
The Prime Minister, who consulted his ethics adviser over the case, did not order a formal investigation and said his decision is "these matters do not amount to a breach of the ministerial code".
But in a letter to Mrs Braverman, the Home Secretary, he said: "As you have recognised, a better course of action could have been taken to avoid giving rise to the perception of impropriety."
She later accepted a fine and penalty points on her driving licence for the speeding offence.
Labour criticised the decision, saying a "cosy exchange of letters" appears to have replaced the "recognised process" for investigating ministerial conduct.
"The whole point of having an independent adviser is so that these matters can be looked at thoroughly and these facts can be put in the public domain in a way that isn't subject to political spin," a party spokesman said.
In her letter to Mr Sunak, the Home Secretary said: "I sought to explore whether bespoke arrangements were possible, given my personal circumstances as a security-protected minister.
"I recognise how some people have construed this as me seeking to avoid sanction – at no point was that the intention or outcome.
"Nonetheless, given the fundamental importance of integrity in public life, I deeply regret that my actions may have given rise to that perception, and I apologise for the distraction this has caused."
She said she decided to take the course and had booked a slot, but after being made Home Secretary in September she asked officials whether the group session was appropriate "given my new role" and the security concerns related to the post.
Mrs Braverman said that in discussions with her principal private secretary (PPS) she was advised that the Cabinet Office's Propriety and Ethics Team (PET) would be "the best source of advice on whether it was appropriate to seek to do the course in a way that protected my privacy, security, and was least disruptive to the course participants and provider".
The PET advised it was "not an appropriate matter for civil servants to take forward", Mrs Braverman said.
But she said her PPS confirmed she could discuss the matter with her special advisers, who raised concerns about her taking an online course because of the risk of being "covertly recorded" and the difficulties of the "appropriate security arrangements" if she attended an in-person session.
"Based on this further information, I concluded that none of these could satisfactorily address the aforementioned security, privacy and political concerns. I therefore opted to take the points and pay the fine, which I did in November."
She added: "I regret that my attempt to find a way to participate in the course in a manner that would have satisfied these concerns has enabled some to construe a potential conflict of interest.
"With hindsight, I acknowledge that the better course of action would have been to take the points and fine upfront."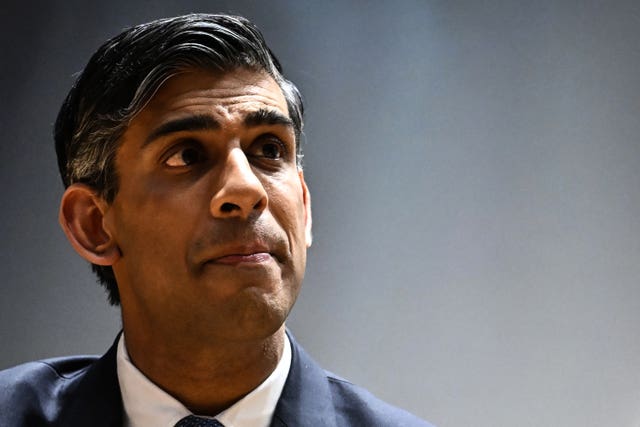 "It is vital that all those in Government maintain the high standards the public rightly expects."
Mr Sunak's decision not to order an investigation by his independent adviser on ministers' interests Sir Laurie Magnus was announced just hours before he faced MPs at Prime Minister's Questions.
It means he avoids a clash with one of the leading figures on the right of the party at a time when he is also facing unrest from allies of Boris Johnson after it emerged officials have contacted police over concerns about possible
lockdown-busting events in Chequers and Downing Street.
Mrs Braverman sat beside Mr Sunak at Prime Minister's Questions in a show of unity.
Labour leader Sir Keir Starmer poked fun at her during questions about immigration and employment policies, claiming she has a problem "coping with points-based systems" and asking Mr Sunak "does he wish he had the strength to give her a career change of her own"?
Liberal Democrat chief whip Wendy Chamberlain said it was a "cowardly cop-out" adding: "Sunak had the chance to do the right thing but instead he's once again chosen to be ruled by his own hardline backbenchers. He may be in office but he is barely in power."