David Cameron has urged ministers to use welfare reforms and training programmes to reduce the need for foreign labour, ahead of the release of figures expected to show record levels of net migration.
The former prime minister, who never met his own goal of bringing net migration down to the "tens of thousands", said he has sympathy with Rishi Sunak and Suella Braverman as they address the challenge.
He also refused to criticise the Government over its plan to send asylum seekers on a one-way trip to Rwanda, saying there is "no point" complaining "if you don't have a better answer" to the problem of small boat crossings.
The Government is seeking to reduce legal migration while under pressure from businesses to ensure there are not labour shortages in key industries.
Figures being published by the Office for National Statistics on Thursday are widely expected to show net migration running at a record high.
Analysis by the Centre for Policy Studies forecasts net migration could have hit between 700,000 and 997,000 for the year ending December 2022.
Mr Cameron told LBC Radio that reducing the figure will require measures to get Britons to fill jobs, through a combination of welfare changes and skills training.
He said: "I think the way to think about immigration is to recognise it's a three-sided problem.
"There's what immigration controls you can put in place.
"There's what welfare reforms you have, to try and make sure that people who can work, do work.
"Then there's what training and apprenticeship and other schemes you have, to make sure that we are training people for the jobs that our country is delivering."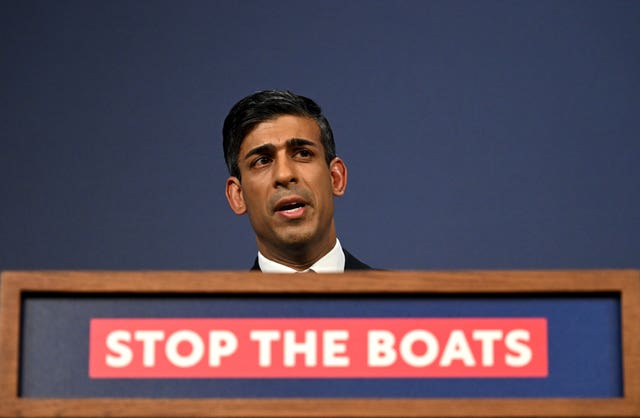 Mr Cameron said: "Borders do matter. Dealing with the small boats does matter.
"Having firm policies for returning people who have no right to be here does matter.
"But if you're not reforming welfare so we're getting working-age people who are on out-of-work benefits back into work, and if you're not training people for the jobs we're making available, then you'll never solve the problem."
On the Rwanda plan, which has been mired in legal challenges, Mr Cameron said: "I think if you don't have a better answer to the things that the Government is doing to try and stop this illegal trade, then I think there's no point criticising."
He suggested a deal which saw migrants arriving in Greece sent back to Turkey had resulted in the collapse of people smuggling operations there, "so I have huge sympathy with the Government when they say we've got to collapse the model of the people smugglers".