A pathologist involved in a recent reinvestigation into the Hillsborough disaster has said haemorrhaging found on Sheku Bayoh following his death in police custody was similar to that suffered by people in crowd crushes.
Consultant forensic pathologist Dr Nathaniel Cary raised the similarity as he was fielding questions put to him during the ongoing public inquiry into the 31-year-old's death in Fife eight years ago.
The father-of-two died after he was restrained by around six police officers responding to reports of him acting erratically in Kirkcaldy on May 3, 2015.
Dr Cary, who told the inquiry he has previously been involved in several other high-profile cases such as the Soham murders in 2002, was asked about petechial haemorrhaging found on Mr Bayoh's face during post-mortem tests.
Dr Cary said: "Positional alone – for instance, just being flat on your front – won't give you petechial haemorrhages. It implies a degree of mechanical asphyxia.
"In restraint-related death, they are quite uncommon. So when they are present, this case becomes more like a crush asphyxia, where someone has been in a crowd crush."
Asked what caused mechanical asphyxia, Dr Cary continued: "The chest being squeezed very hard. In fact, the trunk overall."
Requested to explain the level of force required to bring about a case of mechanical asphyxia, Dr Cary said: "I go back to crowd crushing. We know the sorts of level of force developing in a crowd. It's often substantial force.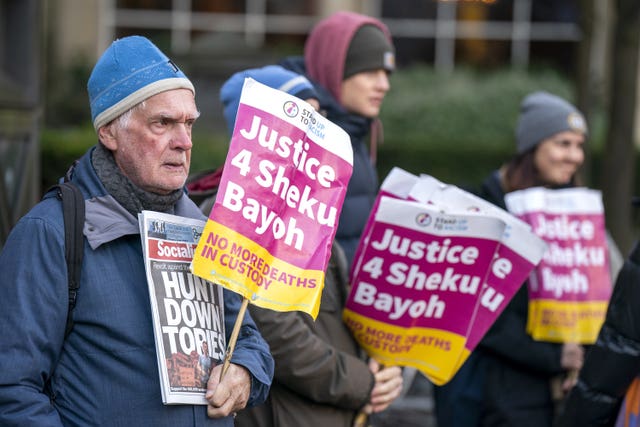 At this point Ms Grahame reminded the inquiry it had earlier heard evidence of the equivalent of around 25 stone of pressure potentially being applied to Mr Bayoh by police officers in their attempts to restrain him.
Dr Cary confirmed that kind of weight could cause mechanical asphyxia. "That is the type of level," he said. "That is a lot of force to apply."
The independent public inquiry in Edinburgh is examining the circumstances leading to Mr Bayoh's death, the subsequent investigation and whether race was a factor.
The probe has already heard from pathologist Dr Kerryanne Shearer, who examined Mr Bayoh following his death and stated his struggle with police while being restrained ought to be considered a "major" part of what led to it.
The inquiry, which is being chaired by Lord Bracadale, continues.