The asylum backlog in the UK has hit a new record high as the immigration minister appeared to suggest processing claims faster could encourage more people to come to the country through illegal routes.
More than 100,000 people waited longer than six months for an initial decision on their case, the latest figures showed.
Charities said the human cost of such delays is "staggering" as they called for claims to be processed more quickly.
But immigration minister Robert Jenrick appeared to suggest this would be likely to lead to an increase in asylum claims from people arriving via illegal means.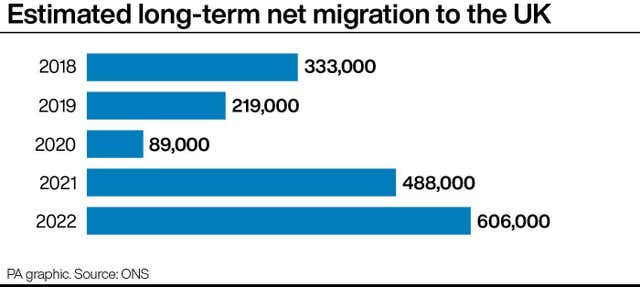 But within hours of that comment, Downing Street appeared to downgrade the target, insisting the Prime Minister had only committed to clearing the backlog of claims made before June.
Mr Jenrick told broadcasters on Thursday he is "confident" the Government will clear the legacy asylum backlog by the end of the year.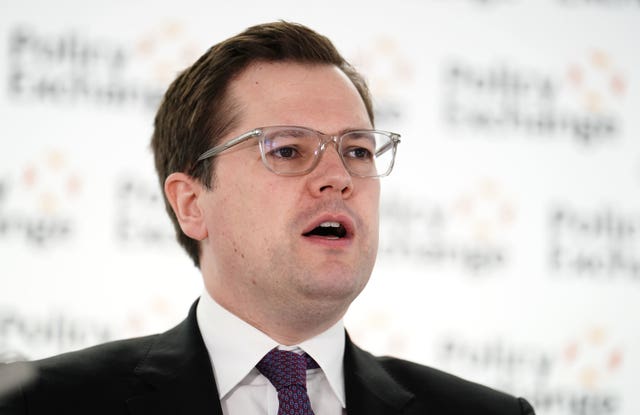 This was up 57% from 109,735 at the end of March 2022 and the highest figure since current records began in 2010.
The number of people waiting more than six months for an initial decision stood at 128,812 at the end of March, up 76% year on year from 73,207 and another record high.
The rise in asylum applications waiting for an initial decision is "due to more cases entering the asylum system than receiving initial decisions", the Home Office said.
The Home Office figures showed that just under half (44%) of total asylum applications in the UK last year were from people who arrived on a small boat.
Some 78% of all small boat asylum applications since 2018 are still awaiting a decision, including 93% of those made in 2022/23.
Christina Marriott, executive director of strategy and communications for the British Red Cross, described the 172,758 figure as "striking".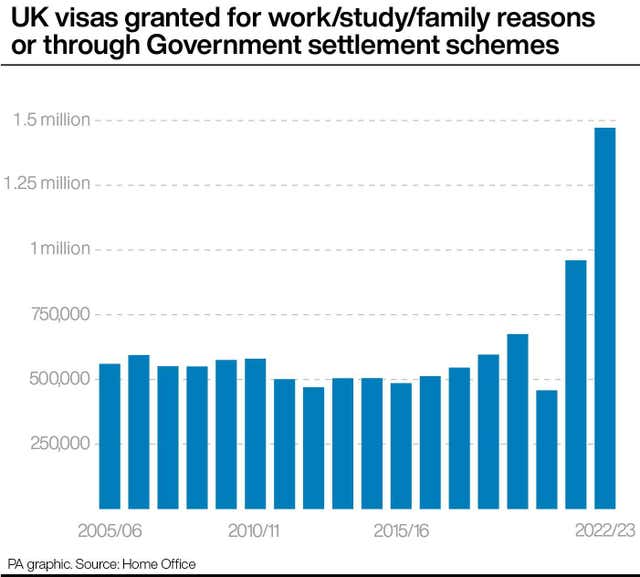 "Processing claims more quickly would help people settle into communities, start work and get on with their lives."
Tim Naor Hilton, chief executive of Refugee Action, said: "The human cost of the failure to process asylum claims is staggering. Many people wait years for a decision in which time they're forced to live in poverty, banned from work, segregated from communities and detained in rundown hotels."
He repeated criticism of the Government's controversial Illegal Migration Bill, saying it will "make things much worse" as no new safe routes will be created, meaning "people will still have to make the deadly Channel crossing".
He added: "The Government must end its addiction to hostility and deterrence, ditch its anti-refugee Bill and create a compassionate, just and accessible asylum system that benefits refugees and the taxpayer."
Enver Solomon, chief executive of the Refugee Council, said the record high number waiting for claims to be dealt with is "unacceptable" and called for "real commitment and resourcing to tackle the backlog, which crucially must include making quick and good quality decisions based on the merit of each claim, so refugees can start rebuilding their lives".
The minister replied: "It is not correct, however, to suggest that if you can process illegal migrants' claims faster that that will reduce the number of people coming into the country. In all likelihood it'll lead to an increase."
Downing Street said tackling the asylum backlog is "the right approach" when asked about Mr Jenrick's comments, and insisted measures to reduce the backlog would "take time to bed in".
The Government is "making some progress on specific areas", the spokesman said, but acknowledged that there is more to do, adding that "we are confident that things like doubling the number of caseworkers will start to have an impact".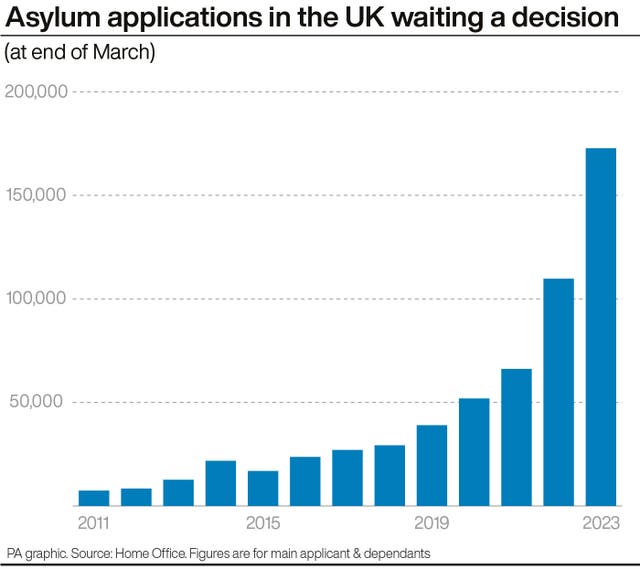 This is the highest total for any 12-month period since the year to March 2003, when it stood at 80,736 applications relating to 99,338 people.
Just under three-quarters (74%) of initial decisions on asylum applications in 2022/23 were grants of refugee status, humanitarian protection or alternative forms of leave.
This is "substantially higher" than in pre-pandemic years, when around a third of initial decisions were grants, the Home Office said.
Albania was the most common nationality applying for asylum in the UK in the year to March 2023, with 13,714 applications by Albanian nationals, 9,487 of which came from arrivals on boats crossing the English Channel.
Afghans were the second most common nationality applying for asylum in 2022/23, with 9,606 applications, more than double the number in the previous 12 months (4,118).
The Home Office said this rise was "likely due to the ongoing conflict in Afghanistan".
By March 2023, some 11,398 people had been resettled in the UK under the Afghan Relocations and Assistance Policy (ARAP), which was launched in April 2021, offering priority relocation to the UK for current or former locally employed staff who have been assessed to be under serious threat to life.
A total of 54 Afghans were resettled in the UK under pathways two and three of the Afghan Citizens Resettlement Scheme (ACRS), which was formally launched in January 2022.
Pathway two – which was specifically designed to help vulnerable refugees referred by the United Nations High Commissioner for Refugees (UNHCR) having fled Afghanistan for resettlement to the UK – saw 40 people resettled.
The third pathway – for those at risk who supported the UK and international community effort in Afghanistan, as well as those who are particularly vulnerable, such as women and girls at risk and members of minority groups – saw 14 people resettled.
Pathway one – focused on eligible people who were notified by the UK Government that they had been called forward or specifically authorised for evacuation, but were not able to board flights at the time of the evacuation amid the Taliban takeover in August 2021 – has seen 9,059 people resettled.
Emily Graham from Safe Passage International said the schemes are "utterly broken", meaning that "more and more Afghans are having to make desperate crossings in the Channel in order to reach safety and family here".
Some 90% of people arriving in the UK in the year to March 2023 on small boats claimed asylum or were recorded as a dependant on an asylum application.