Queen Camilla has met children and community volunteers during a visit to a library in Armagh aiming to make history more accessible.
The visit to Armagh Robinson Library and Museum in Co Armagh came on the second day of the royal visit to Northern Ireland.
At the library, Camilla met with children from Drelincourt primary school who told the Queen she looked "beautiful" and told her about their work studying the reproduction Lindisfarne Gospels.
The children Camilla met all speak English as a second language and the Queen spoke with them and their teachers about learning multiple languages at a young age.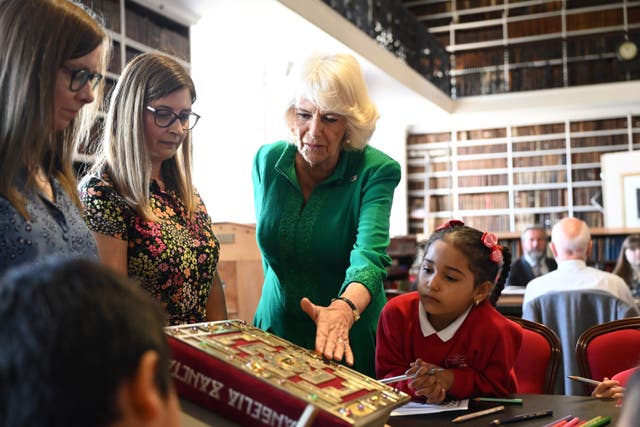 She chatted with volunteers, while she viewed books from the library and signed a commemorative photograph of her visit.
Corinne Hamilton is a volunteer from Dementia NI who was seated beside the Queen.
Ms Hamilton said she shared a joke with the Queen as she signed the photograph to mark her visit.
"She did say: 'Don't ask me what the date is.' So I said: 'Well, it's as well you're at the Dementia NI table,'" she said.
Ms Hamilton added: "She (Camilla) laughed about it. You know, she knew fine rightly."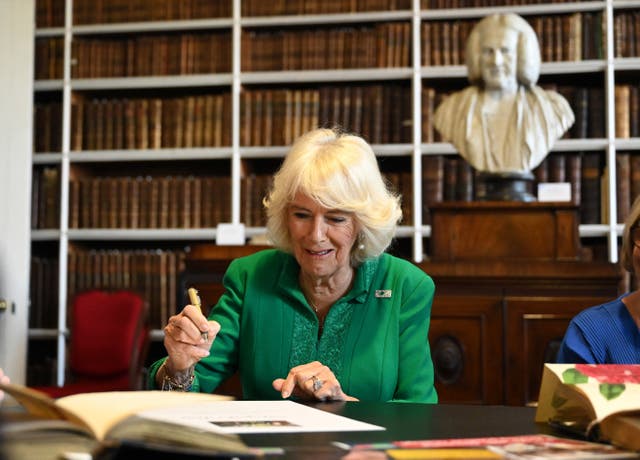 Carol Conlon, the assistant keeper at Armagh Robinson Library, told Camilla about the history of the book and the tourism it attracts to the area.
Ms Conlon said people were pleased at the Queen's visit given her interest in encouraging reading and literacy programmes.
"Well, we were very pleased, we knew there was going to be a royal visit, and then very close to the time we were told it would be Queen Camilla," she said.
"And I gather that there is a great interest in libraries and in the value of books, and so a special request had been made that we would be included in the visit to Armagh today, and we're very, very pleased."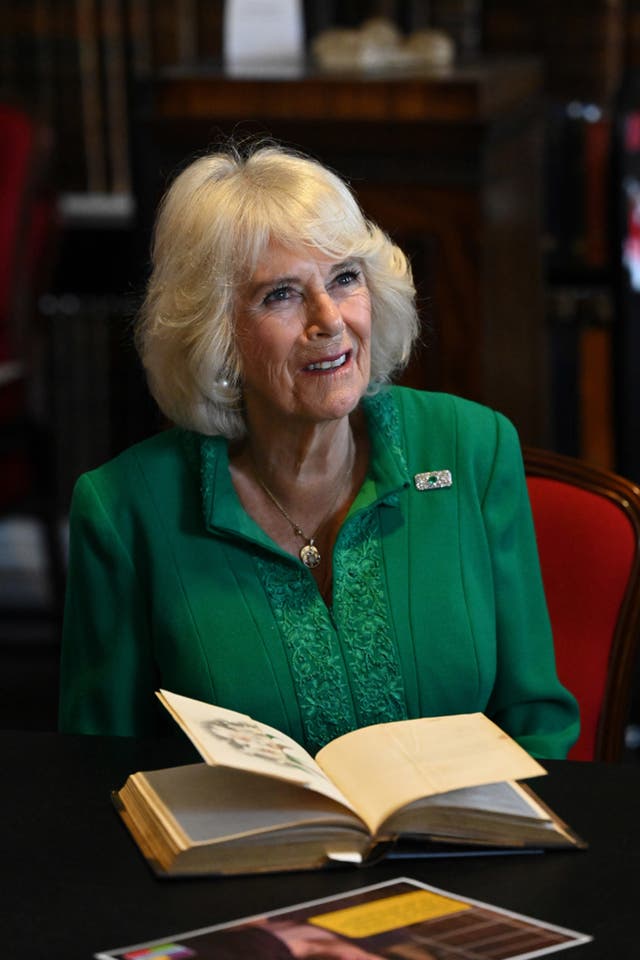 Ms Conlon said the groups that met with the Queen highlighted the work the library is doing.
"I felt there was a lovely balance because we have the library volunteers, a lovely selection of them as well and to see how they do and what they do to help in the life of the library," she said.
"So a lovely mixture of the supportive work of our library volunteers, the playful museums initiative, and the working to become a dementia friendly museum. Wonderful trio."
Following her visit to the library the Queen met with members of the Methodist College Belfast choir alongside the King, before meeting crowds in Market Theatre Square.