Former first minister Nicola Sturgeon has said it is now her dream to write a novel after stepping down from the role in March.
Ms Sturgeon appeared at an event with comedian Janey Godley as part of the Aye Write book festival at the Royal Concert Hall in Glasgow on Friday, where she revealed it was "now" her dream to write a novel.
She told audience members: "I'm so jealous that you (Janey Godley) have written a novel.
"It's my dream now to write a novel, but I'll never do it."
The event was held to discuss Godley's novel Nothing Left Unsaid, which is set in Shettleston and flashes back to the summer of 1976.
To which Ms Sturgeon said: "Most of it is probably actionable!"
The former SNP leader, who stood down in March after eight years in office, dropped further hints that a memoir may be under way of her time in office.
She also acknowledged she had had a "tough time" over the last few weeks while the police investigation into the SNP's finances intensified.
She said: "I'm no stranger to stress in my life.
"There have been days in the last few weeks perhaps where I thought I was having a tough time."
Ms Sturgeon said it was a rarity to hear "authentic working class female voices" in many walks of life and said she remembered women who joined "menages" – which are self-managed saving schemes and soup pots, which feature in Godley's novel.
Recently diagnosed with ovarian cancer, Godley went viral on social media for her comical voiceovers of Ms Sturgeon's Covid briefings.
The pair discussed how the voiceovers came about where Godley revealed she had always done them.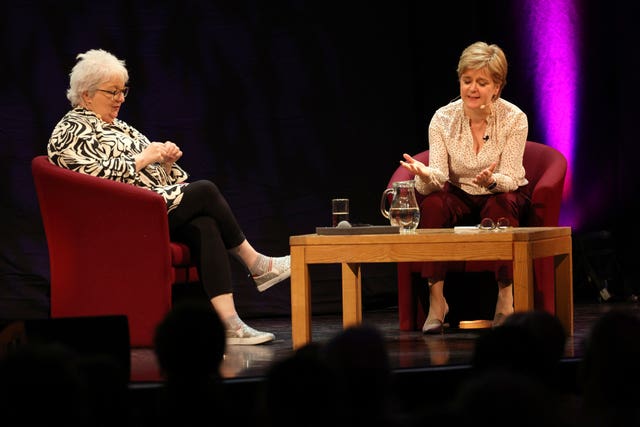 She said: "We were doing these for the sake of it, when I did the first one I went: I can't, people have died. This isn't the right thing to do.
"But when they took off, people were saying to me they were really funny."
Ms Sturgeon said: "There were two things you used to say in them and it was that: 'my feet were killing me'.
"My feet usually were killing me, and that I was starving and I usually was starving."
Among the most popular were those of Ms Sturgeon which often ended with a now infamous phrase: "Frank! Get the door!"
Godley revealed that Frank was based on a man who read "cowboy books" in the pub she used to work in.