Boris Johnson has handed his unredacted WhatsApp messages and notebooks to the Cabinet Office, as the former prime minister called on the Government to "urgently disclose" the material to the Covid-19 inquiry.
The Cabinet Office had claimed it did not have access to Mr Johnson's WhatsApp messages and private notebooks, which were demanded by inquiry chairwoman Baroness Hallett.
Ministers have so far objected to the release of "unambiguously irrelevant" material.
The inquiry has set a deadline of 4pm on Thursday to hand over Mr Johnson's messages, notebooks and official diaries, having granted a 48-hour extension on Tuesday.
The Cabinet Office has now confirmed it has received the information and officials are looking at it.
Mr Johnson's spokesperson said on Wednesday: "All Boris Johnson's material – including WhatsApps and notebooks – requested by the Covid inquiry has been handed to the Cabinet Office in full and in unredacted form.
"Mr Johnson urges the Cabinet Office to urgently disclose it to the inquiry.
"The Cabinet Office has had access to this material for several months. Mr Johnson would immediately disclose it directly to the inquiry if asked.
"While Mr Johnson understands the Government's position, and does not seek to contradict it, he is perfectly happy for the inquiry to have access to this material in whatever form it requires.
"Mr Johnson co-operated with the inquiry in full from the beginning of this process and continues to do so.
"Indeed, he established the inquiry. He looks forward to continuing to assist the inquiry with its important work."
The decision by Mr Johnson to hand over the material will add to pressure on the Cabinet Office, with Downing Street already forced to deny allegations of a "cover-up" amid criticism over the public row with the inquiry.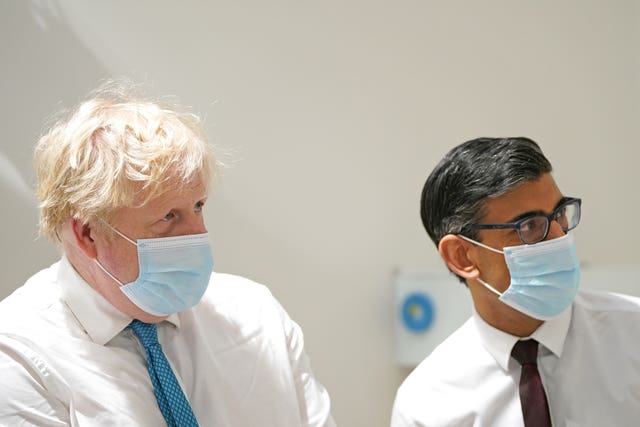 Refusing to comply with the request to hand over the documents – which include text conversations between Mr Johnson and a host of government figures including Prime Minister Rishi Sunak – could lead to a court battle with the official inquiry.
But Whitehall officials hope that a compromise can be reached before the 4pm deadline to avoid the need for a damaging legal fight with the inquiry set up to examine the pandemic and the Government's response.
Work and Pensions Secretary Mel Stride had earlier told Sky News "we absolutely intend to continue to be absolutely transparent and candid" and the Government had already provided "55,000 documents, eight witness statements and corporate witness statements" to the inquiry.
The inquiry is still expected to wait for the Cabinet Office response, ahead of Thursday's deadline.