Football fans driving from Manchester to the FA Cup final are being urged to use certain routes and motorway service stations based on who they support.
Transport bosses issued the guidance amid congestion fears as the majority of Manchester City and Manchester United supporters will travel to London's Wembley Stadium by road due to a train strike.
Transport for Greater Manchester (TfGM) advised City supporters to take one of these routes to the capital: M62 and M1; M6 and M1; or M6, M6 Toll and M1.
United fans are urged to travel on the M6, M42 and M40, which is a near-identical distance of around 200 miles.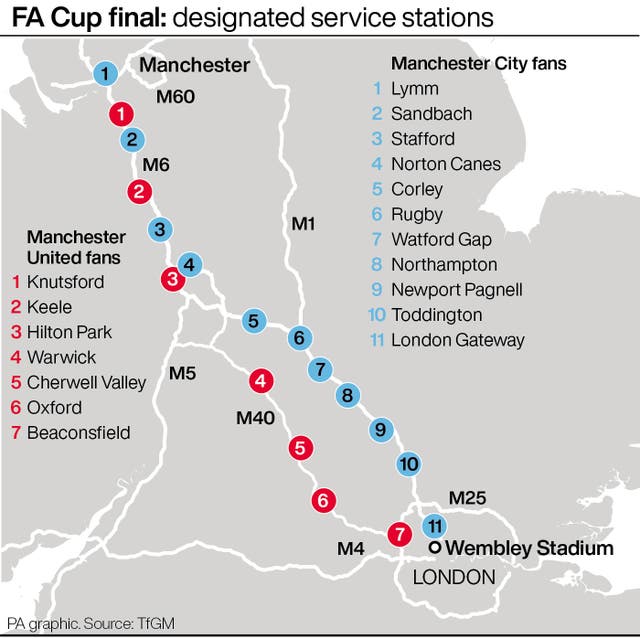 City fans are asked to use Lymm, Sandbach, Stafford, Norton Canes, Corley, Rugby, Watford Gap, Northampton, Newport Pagnell, Toddington and London Gateway.
The services allocated to United supporters are Knutsford, Keele, Hilton Park, Warwick, Cherwell Valley, Oxford and Beaconsfield.
There are no plans to enforce the guidance.
The AA said service stations "are likely to be incredibly busy" on Saturday and advised non-football fans to consider taking a break off the motorway network, such as at a local town or village.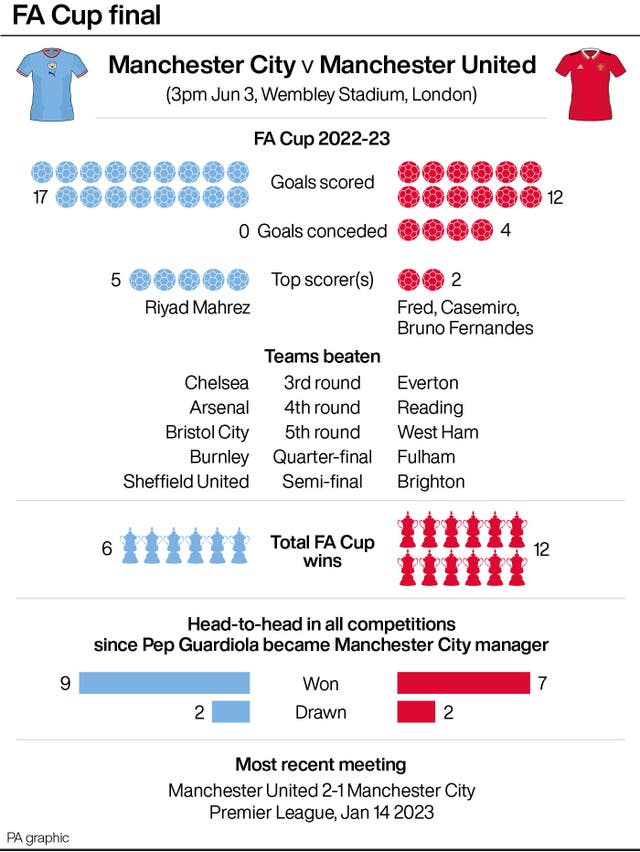 Thousands of supporters will travel from Manchester by coach.
The Football Association has laid on 120 coaches in addition to those provided by each club.
TfGM said people "concerned" about travelling to the match "may want to consider making a weekend of it in London".
AA public relations manager Tony Rich said: "The best mode of travel for football fans will be the official coaches and the extra coaches put on by the FA.
"For those who plan to drive themselves to Wembley Stadium they are advised to set off early, using alternative routes where possible as most major roads are likely to be busy with coaches carrying supporters to the game.
"In addition to the football traffic, returning half-term journeys could also play a part in weekend jam misery with roads leaving many holiday destinations likely to be especially busy.
"It's important to be prepared for delays by checking travel updates and making sure your car is fit for the journey and by having plenty of food and drink on board."