The Scottish Government has pledged to raise awareness of the risk from wildfires following a massive blaze in the Highlands – the smoke from which could be seen from space.
Community safety minister Siobhian Brown made the commitment amid suggestions that a wildfire at  Cannich, in the hills above Loch Ness, was started by wild campers.
Satellite images from Nasa had shown the plume of smoke from the blaze drifting towards the loch on Monday amid clear skies.
Two firefighters who were injured after being in an accident in their all-terrain vehicle while tackling the blaze – which covers an area measuring roughly eight kilometres by eight kilometres – have now been discharged from hospital, the minister told Holyrood.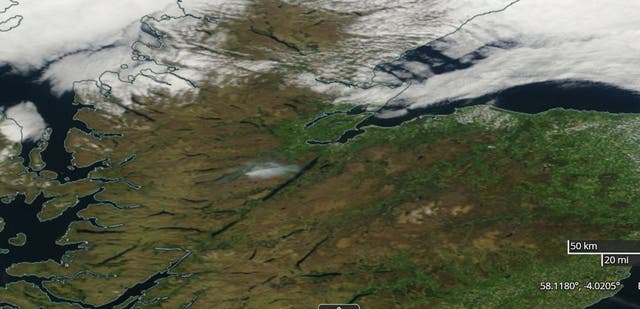 Labour Highlands and Islands MSP Rhoda Grant said: "In Cannich the suggestions are this was caused by wild camping.
"I wonder if the minister would look at ways of how to better educate people on the Countryside Code when they are enjoying the outdoors."
Ms Brown said she did not "have that inside information on how the fire was actually started".
But she added she was happy to look at Ms Grant's suggestion and "see how we can raise awareness and prevent it in the future".
The minister thanked all the firefighters and others involved in tackling the blaze, which the SFRS first responded to on Sunday.
Ms Brown added: "The weather and the condition of vegetation at this time of year lends themselves to fires starting easily and spreading quickly.
"It is crucial people act safely and responsibly, one heat source can cause ignition and if the wind changes direction the smallest fire can spread and devastate entire communities, hillsides, livestock, farmland, wildlife, protected woodland and sites of special interest."
Helicopters have been used to waterbomb the area of the fire – which covers an area of around 24.7 square miles – with members of the public being warned not to walk their dogs there as a safety precaution.
SFRS group commander Niall MacLennan said: "As the warm and dry weather continues, so too does the risk of wildfire.
"The ongoing incident at Cannich shows just how large these fires can become.
"A mixture of seasonal weather conditions combined with very dry and dead vegetation means there is a heightened risk of fires, which can be started by the careless disposal of cigarettes as well as barbecues or campfires left unattended.
"Many of our rural and remote communities are hugely impacted by these incidents, which can cause significant environmental and economic damage.
"Cannich has been a challenging incident and our crews are working tirelessly to tackle the fire and stop further spread.
"Extinguishing a fire on this scale requires a large amount of resources, including the use of helicopters to bolster our response. We will remain on scene until we make the area safe."
Ross Ewing, Scottish Land & Estates director of moorland, said: "Our thoughts are with the firefighters who have been injured tackling the wildfire in the area around Cannich.
"Nearly 3,000 hectares of land have already been burned in this fire and it follows on from the huge wildfire near Glenuig in April, which was estimated to be the second largest ever recorded in the UK.
"Wildfires have a devastating impact on wildlife and habitats, generating catastrophic carbon emissions. They are becoming increasingly frequent in Scotland, partly due to climate change and partly due to a lack of fuel load management in some areas.
"This wildfire demonstrates how important it is to utilise all the tools at our disposal to manage the fuel load of vegetation, which has been shown to increase wildfire risk. We hope the situation at Cannich will soon be contained so that the scale and extent of damage can be assessed.
"We are urging anyone going out into the countryside to take care and follow guidance in relation to campfire cooking and when the ground is so dry it's recommended not to use either a campfire or a camping stove."