A ban on all conversion therapy "with no loopholes" must be introduced urgently after years of delays and U-turns, a charity has said.
The Government first promised to ban conversion practices in 2018.
In January, it said it would "shortly" publish a draft Bill detailing its proposed approach to ban conversion practices on the basis of sexuality and gender identity in England and Wales.
At that stage it pledged to ban conversion therapy for "everyone" – including transgender people.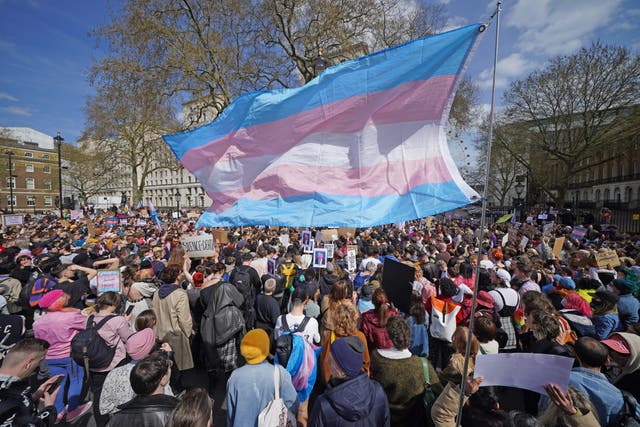 When the Government initially announced its consultation into the conversion therapy ban, its "universal" proposals were intended to protect all LGBT (lesbian, gay, bisexual and transgender) people.
But in March 2022, then-prime minister Boris Johnson dramatically dropped plans for legislation, with a Government spokesman saying at the time that it would look at how the existing law could be applied more effectively and explore other measures.
Within hours, a furious backlash forced a hasty retreat and a senior Government source was quoted as saying legislation would be included in the Queen's Speech.
But he defended the decision not to include trans people, saying there were "complexities and sensitivities" which needed to be worked through.
Critics told the Government to stop making "pathetic excuses", protesters took to the streets and so many LGBT+ groups pulled out of the Government's landmark LGBT conference that it had to be cancelled.
In January, Michelle Donelan, then-Secretary of State for Digital, Culture, Media and Sport, said ministers recognised the "strength of feeling on the issue of harmful conversion practices", adding that it is right the issue is tackled "through a dedicated and tailored legislative approach".
She said: "The Bill will protect everyone, including those targeted on the basis of their sexuality, or being transgender."
She described it as a "complex area", adding that the legislation "must not, through a lack of clarity, harm the growing number of children and young adults experiencing gender related distress, through inadvertently criminalising or chilling legitimate conversations parents or clinicians may have with their children".
The British Psychological Society, which also supports a ban, has warned the legislation must make a "clear distinction between so-called conversion therapy and normal ethical practice".
It added that legislation should "not interfere with psychological and medical professionals who are trained and competent in working with trans and gender-questioning young people from engaging in identity exploration or performing clinical assessment of suitability for medical intervention."
In anticipation of a Bill being published soon, Stonewall spoke of the "five years of delays and U-turns" from the Government.
The Bill is expected to ban conversion therapy for over-18s "who do not consent and who are coerced or forced to undergo" the practices.
The group's chief executive, Nancy Kelley, warned that the legislation will not be workable and effective and not contain loopholes.
She said: "We need a comprehensive, enforceable ban on all forms of conversion practices before the legislative clock runs out.
"We've had five years of delays and U-turns from the UK Government, and every month that goes by means more LGBTQ+ people abused and exposed to lifelong harm.
"We've heard countless stories from people who suffered from conversion therapy in seemingly safe environments such as private prayer and in spiritual practices.
"When you've been led to believe by your faith leaders – people you trust – that being LGBTQ+ is wrong, then many do indeed give their consent to the abuse. But it is not meaningful consent.
"The impact of these abusive practices is always life-changing. It is simple – no legislation will be workable and effective if it contains loopholes, whether for consent, religious settings or any other carve-outs."
The charity is calling for "an effective, comprehensive legal ban, protecting all LGBTQ+ adults and children, in all settings, with no loopholes".
It also said targeted support should be provided for survivors of conversion practices as well as guidance "for mainstream service providers about identifying and supporting children and adults at risk".
Dr Adam Jowett, chair of the British Psychological Society's equality, diversity and inclusion board, said it is right that the Bill is "inclusive and protect people of all gender and sexual minorities, including transgender people".
He said: "It remains crucially important that a ban is implemented as soon as possible, to protect people from the unethical therapies that purport to change or convert sexual orientation or gender identity.
"Until the Government legislates, people will continue to be subjected to damaging and abusive practices that ruins lives.
"It's important that people seeking help to explore their sexual orientation or gender identity can continue to have a safe space and the support of trained professionals.
"Therefore, the new legislation must be crystal clear that it will not stop ethical forms of therapy, which are non-directive and non-judgemental.
"To avoid professionals' concerns about criminalisation, the Government must make a clear distinction between so-called conversion therapy and normal ethical practice."