Rishi Sunak said going out to sea on a Border Force boat in choppy waters brought home how "awful and tragic" small boat crossings were and showed the difficulties of rescue operations.
The Prime Minister joined crews on a patrol vessel for the first time on Monday to see the conditions off the coast of Dover, saying criminal gangs were "completely and utterly wrong" to expose migrants to the risks.
Speaking at a press conference at the Western Jet Foil and asylum processing centre afterwards, where he was still wearing brown work boots, Mr Sunak said it had been hard enough not to "get ill" on the border agency's vessel.
"And when you talk to the team here, who are the ones who have to deal with that on a daily basis and rescue those people, they will tell you that it's wrong.
"And that's why the moral thing to do, the compassionate thing to do, is to stop these criminal gangs from being able to exploit people like that and put them on these rafts and send them across the Channel."
The Prime Minister went out on Border Force cutter HMC Seeker, used in the agency's rescue operations up until early last year, on a sunny but gusty day that saw sea swells of more than one metre.
Asked whether exceptionally windy conditions in the Channel, and subsequently fewer small boat crossings, were the reason behind the timing of his visit, Mr Sunak said: "There's many things I can control, the weather is not one of them."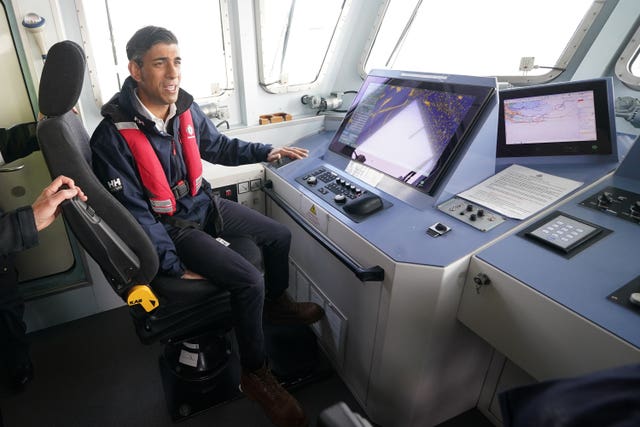 The cutter went about out to around a mile off shore, "certainly enough for it to be pretty choppy out there", he said, joking that "you definitely wanted three points of contact".
Mr Sunak "looked really good actually", Mr Capps said.
"He's visited most parts of my operation now but it was the first time he was out on one of the boats."
"There's no substitute for getting out there and I know the crew really appreciated him being there to actually see what they go through when they're doing the rescues.
"He's really appreciative of the people that manage this operation because it's pretty tough and it can be a little bit unforgiving. Not everybody's appreciative that there are responsibilities the UK has to save people's lives."
The former head of the army training college at Sandhurst spoke of an incident a week earlier when "we had two three-year-olds come to shore who were already hypothermic".
Most people "are already soaking wet" by the time they get on the dinghies, he noted, and are often forced at knife-point to launch despite dangerous weather conditions by traffickers who do not get paid unless they make the crossing.
Reporters were shown one of the flimsy plastic rafts, which are not designed to carry large groups of people 26 miles from France.
Often around 60 migrants, most of whom cannot swim, pile onto such vessels with little maritime training for journeys that can sometimes take more than 24 hours.